Books
21 books by Canadian women to read right now
Now is a great time to curl up with a good book.
Here are 21 books by Canadian women that are worth reading right now. Check them out below.
Emily St. John Mandel's new book, The Glass Hotel, interweaves several complex narratives. Vincent is a bartender in a prestigious hotel on Vancouver Island. When the owner — Jonathan Alkaitis — passes Vincent his card, it becomes the beginning of their story together. Meanwhile, a hooded figure scrawls a cryptic note on a wall in the hotel, and a shipping executive for a company called Neptune-Avramidis — Leon Prevant — sees the note and is shaken. Thirteen years later, Vincent disappears from a Neptune-Avramidis ship. 
St. John Mandel is a New York-based Canadian writer. Her fourth novel, Station Eleven, was a finalist for a National Book Award and the PEN/Faulkner Award and won the 2015 Toronto Book Award. 
Frying Plantain follows Kara Davis through elementary school to her high school graduation, as she comes of age while being perennially caught between her Canadian nationality and Jamaican heritage. Over a series of 12 stories, Davis visits her great aunt in Jamaica, endures a cruel prank by close friends and deals with her stubborn grandparents. 
Frying Plantain was longlisted for the 2019 Scotiabank Giller Prize.
Reid-Benta is a graduate of Columbia's MFA program and was named a writer to watch by George Elliott Clarke. Frying Plantain is Reid-Benta's first book. CBC Books named Reid-Benta a writer to watch in 2019. 
Beverley McLachlin became the first woman to hold the office of Canada's chief justice in January of 2000. Throughout her 17 years as chief justice and 28 years on the Supreme Court, McLachlin helped shape Canadian law and governance, including legislation on sex work and mandatory minimum prison sentences. She shares her story in the memoir Truth Be Told.
McLachlin is also the author of the fictional thriller Full Disclosure. 
Alicia Elliott explores the systemic oppression faced by Indigenous peoples across Canada through the lens of her own experiences as a Tuscarora writer from Six Nations of the Grand River. Elliott examines how colonial violence, including the loss of language, seeps into the present day lives of Indigenous people, often in the form of mental illness. Elliott, who lives in Brantford, Ont., won gold at the National Magazine Awards in 2017 for the essay this book is based on.
A Mind Spread Out on the Ground was on the shortlist for the Hilary Weston Writers' Trust Prize for Nonfiction.
Elliott is a Tuscarora writer living in Brantford, Ont. She was chosen by Tanya Talaga as the recipient for the 2018 RBC Taylor Emerging Writer Award. CBC Books named Elliott a writer to watch in 2019.
Empire of Wild follows a woman named Joan, who hasn't given up on finding her husband, even though he's been missing for a year. One morning, a hungover Joan finds herself in a packed preacher's tent on a Walmart parking lot. The charismatic Reverend Wolff is none other than Victor, who claims to have no memory of Joan or their life together.
Cherie Dimaline is a Métis author whose novel The Marrow Thieves won the Governor General's Literary Award for Young people's literature — text and was defended by Jully Black on Canada Reads 2018.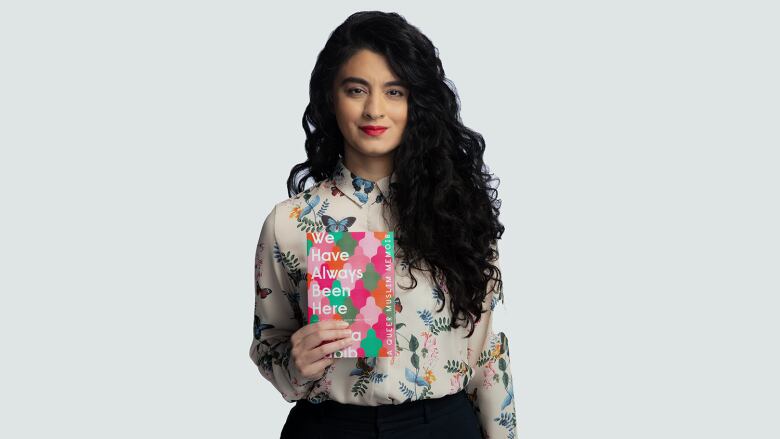 Samra Habib's memoir We Have Always Been Here is an exploration of the ways we disguise and minimize ourselves for the sake of survival. As a child, Habib hid her faith from Islamic extremists in Pakistan and later, as a refugee in Canada, endured racist bullying and the threat of an arranged marriage. In travelling the world and exploring art and sexuality, Habib searches for the truth of her identity. 
We Have Always Been Here is on the longlist for the 2020 RBC Taylor Prize.
Habib is a journalist, photographer and activist based in Toronto. CBC Books named Habib a writer to watch in 2019. We Have Always Been Here is her first book. It will be defended by Amanda Brugel on Canada Reads 2020.
In 1956, five evangelical Christian missionaries were killed when they ventured into the Ecuador rainforest to convert the Waorani, a group of Indigenous people who had no previous contact with the outside world. Five Wives fictionalizes the story of the women left to deal with the fall-out of their husbands' actions and deaths, which were widely covered by the media.
Five Wives won the 2019 Governor General's Literary Award for fiction.
Joan Thomas is the author of three previous novels. Her novel The Opening Sky was a finalist for the Governor General's Literary Award for fiction in 2014.
In 2016, Liz Levine's sister Tamara committed suicide. In the memoir Nobody Ever Talks About Anything But the End, Levine tells the story of her sister alongside the story of another death that had a huge impact on her life: that of her childhood sweetheart Judson to cancer. Nobody Ever Talks About Anything But the End is a book about grief, and it's messiness, but it's also a book about life and its beauty. 
Levine is a television and film producer who has worked on Story of a Girl and jPod. Her writing has appeared in the National Post, The Walrus and the Vancouver Sun. Nobody Ever Talks About Anything But the End is her first book.
Helen Knott is a poet and writer of Dane Zaa, Nehiyaw and European descent. Her memoir, In My Own Moccasins, is a story of addiction, sexual violence and intergenerational trauma. It explores how colonization has affected her family over generations. But it is also a story of hope and redemption, celebrating the resilience and history of her family.
In My Own Moccasins was on the 2020 RBC Taylor Prize longlist. 
Knott is a social worker and writer. In My Own Moccasins is her first book.
In most fairy tales, characters who have disabilities or look different are often mocked or are the villain. In Disfigured, Amanda Leduc looks at fairy classics, from the classic Brothers Grimm to the modern Disney films, and explores how the representation of disability has informed how we see the world around us from a very young age and makes a case for a new set of tales, ones that celebrate difference and inclusivity. 
Leduc is the communications and development coordinator for the Festival of Literary Diversity (FOLD) in Brampton, Ont. She is also the author of the novel The Miracles of Ordinary Men. She was longlisted for the 2019 CBC Short Story Prize.
I Hope We Choose Love is a collection of essays and prose poems from writer, performer and social worker Kai Cheng Thom. Thom explores several social movements and the issues that complicate them, such as violence, complicity and forgiveness. She calls for respect, nuance, understanding and love as we work toward making the world a better place.
Kai Cheng Thom is a writer, performance artist and therapist. She is the author of the children's book From the Stars in the Sky to the Fish in the Sea, a semi-autobiographical poetry collection called a place called No Homeland and the novel Fierce Femmes and Notorious Liars: A Dangerous Trans Girl's Confabulous Memoir.
In No More Nice Girls, journalist Lauren McKeon looks at how far we still have to go when it comes to gender equality. She highlights how social and economic systems are designed to keep women out while highlighting those who are creating spaces for women both within patriarchal systems and outside them. McKeon's core argument is that we need to stop trying to play a game that's designed for women to lose, and start breaking the rules in order to get ahead.
McKeon is an editor at the Walrus and is also the author of the book F Bomb: Dispatches on the War on Feminism. Her writing has appeared on CBC, Toronto Life, Hazlitt and Chatelaine. 
In Not One of These Poems Is About You, Teva Harrison ponders what it means to live with metastatic breast cancer. From preparing to lose her husband to how the disease has influenced her identity, Harrison's poems explore life, love and death with striking honesty.
Harrison was an award-winning cartoonist known for her poignant comics about living with an incurable illness. Her 2016 graphic novel In-Between Days won the Kobo Emerging Writer Prize for Non-Fiction and was a finalist for the Governor General's Literary Award for nonfiction. She died on April 28, 2019 at the age of 42.
The Testaments is set 15 years after the events of The Handmaid's Tale and includes the "explosive testaments" of three women. The book answers questions on the inner-workings of Gilead, the oppressive dystopia where Offred, the novel's original narrator, was stripped of her freedoms and forced to be a handmaid for powerful men. The novel co-won the 2019 Booker Prize and broke Canadian sales records when it was published in Sept. 2019.
Atwood, 80, has been publishing poetry, fiction and nonfiction since the 1960s. Her acclaimed books include The Handmaid's Tale, Alias Grace, Oryx and Crake and The Edible Woman. She has won several awards for her work including the Governor General's Literary Award, the Scotiabank Giller Prize and the Man Booker Prize. 
Trick Mirror is a collection of insightful and humourous essays from New Yorker staff writer Jia Tolentino. With each essay, Tolentino tackles some phenomenon of popular culture — from social media to female literary characters — and explores the way they interact with our own self-delusions.
Tolentino was born in Toronto, but grew up primarily in the U.S. Trick Mirror is her first book.
Jenny Heijun Wills was born in Korea, but was adopted by a Canadian family and raised in a small town. When she was in her early 20s, she decided to travel back to Korea to meet her extended birth family and other young people who were adopted from Korea and raised abroad. Older Sister. Not Necessarily Related. shares Wills's journey and also explores the impact of being raised by a family of a different ethnicity and culture.
Older Sister. Not Necessarily Related. won the Hilary Weston Writers' Trust Prize for Nonfiction.
Wills is an associate professor at the University of Winnipeg. She has co-edited two academic books.
Small Game Hunting at the Local Coward Gun Club, Megan Gail Coles's debut novel, revolves around a cast of flawed characters who are implicated in each other's hopes, dreams and pains as they try to survive harsh economic times in the province. 
Small Game Hunting at the Local Coward Gun Club was shortlisted for the 2019 Scotiabank Giller Prize. It will be defended by Alayna Fender on Canada Reads 2020.
Coles is a playwright from St. John's. She previously published the short story collection Eating Habits of the Chronically Lonesome.
Shut Up You're Pretty is a short fiction collection that tells stories of young women coming of age in the 21st century. Mutonji's characters include a young woman who shaves her head in an abortion clinic waiting room, a mother and daughter who bond over fish and a teenager seeking happiness with her pack of cigarettes.
Shut Up You're Pretty was on the 2019 Rogers Writers' Trust Fiction Prize shortlist. 
CBC Books named Mutonji a writer to watch in 2019. Shut Up You're Pretty is her first book. She lives in Scarborough, Ont.
Based on the years Globe and Mail reporter Robyn Doolittle spent examining how police mishandle sexual assault cases, Had It Coming is an in-depth look at how attitudes around sexual harassment and assault are changing in the #MeToo era. Doolittle's investigative series Unfounded looked into sexual assault allegations using data gathered from over 870 police forces across the country and found that many cases were deemed "baseless" and not properly investigated.
Had It Coming was shotlisted for the 2020 RBC Taylor Prize.
Doolittle is a journalist based in Toronto. Her previous book, Crazy Town: The Rob Ford Story, was published in 2014.
Amanda Jetté Knox chronicles the making of her loving family in the memoir Love Lives Here. Happily married with three children, Knox noticed that her middle child was struggling with depression and skipping school. After Alexis came out as transgender at the age of 11, Knox dove headlong into trans rights research and advocacy. Just over a year later, Knox's spouse came out as transgender, marking another, ultimately triumphant, transition for the family.
Knox is a writer, activist and public speaker who lives in Ottawa. Love Lives Here is her first book. She also blogs at The Maven of Mayhem. 
When Samra Zafar was 15 years old, she was told by her mother that a great match had been found, and she was to be married — to a man who lived in Canada and was 11 years older than her. Despite having her own dreams and goals, Zafar got married, moved to a new country and started a family. But when her relationship became abusive, Zafar knew she must leave and build a new life for her children. Zafar has written about her experience in the book A Good Wife.
Zafar is now a public speaker, activist and human rights activist. She was named one of Canada's 100 most powerful women in 2019.