Books
20 moving Canadian memoirs to read right now
Looking for a good book? Here are 20 great true stories worth your time.
Looking for a good book? Here are 20 great true stories worth your time.
Marianne Boucher's graphic memoir Talking to Strangers describes how, in the summer of 1980, she moved to California to follow her figure skating dreams and ended up joining a cult. Boucher details how the group's sophisticated brainwashing techniques overpowered her free will — until she managed to escape.
Boucher lives in Toronto and has covered major criminal trials as a court reporter and illustrator.
In The Skin We're In, journalist and activist Desmond Cole looks at what it's like to live in Canada as a black person. In The Skin We're In looks at one year, 2017, and chronicles Coles's personal journalism, activism and experiences alongside stories that made the headlines across the country, including refugees crossing the Canada-U.S. border in the middle of winter and the death of Somali-Canadian Abdirahman Abdi at the hands of the Ottawa police.
Cole is a journalist, radio host and activist based in Toronto. His writing has appeared in the Toronto Star, Toronto Life, Now Magazine and the Walrus. The Skin We're In is his first book.
When David Gillmor disappeared more than 10 years ago, his truck and cowboy hat were found at the edge of the Yukon River. His body was recovered six months later, just as his brother Don Gillmor journeyed to Whitehorse to canoe through the waters his brother had departed from. To the River explores how survivors of suicide cope with a loved one's decision to take their own life and examines the larger social, cultural and psychological questions surrounding suicide, especially among middle-aged men.
To the River won the 2019 Governor General's Literary Award for nonfiction.
Gillmor is a Toronto journalist and author of novels and nonfiction books like Canada: A People's History. He has twice been nominated for the Governor General's Literary Award in the young people's literature — text category for The Fabulous Song and The Christmas Orange.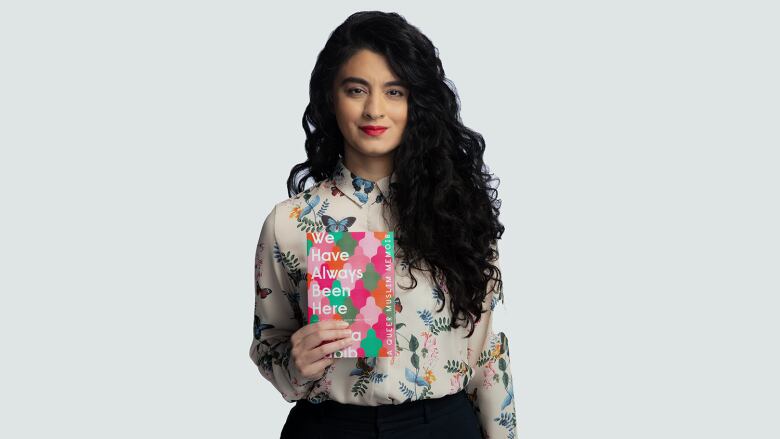 Samra Habib's memoir We Have Always Been Here is an exploration of the ways we disguise and minimize ourselves for the sake of survival. As a child, Habib hid her faith from Islamic extremists in Pakistan and later, as a refugee in Canada, endured racist bullying and the threat of an arranged marriage. In travelling the world and exploring art and sexuality, Habib searches for the truth of her identity. 
We Have Always Been Here will be defended by Amanda Brugel on Canada Reads 2020.
Habib is a journalist, photographer and activist based in Toronto. CBC Books named Habib a writer to watch in 2019. We Have Always Been Here is her first book.
Emma Hansen was almost 40 weeks pregnant when her baby died. But since she was so far along in her pregnancy, she had to carry her son to term and deliver him. After she gave birth to her son Reid, and said goodbye to him, she wrote an essay online about her experience, and the complicated grief that came with it. The essay went viral, and inspired Still, a memoir about the same experience, and an attempt to start a conversation about a devastating loss that two million women experience annually, but is rarely talked about.
Hansen is a blogger, model and doula who writes and speaks about stillbirth and child loss. Still is her first book.
Eva Holland explores fear in her first book Nerve. After losing her mother suddenly, Holland decides it's time to face her fears and dives headfirst into tackling them. Along the way, she explores the science of fear and tries to get answers to questions like: Can you really smell fear? What causes fear? Is it possible to be truly fearless?
Holland is a writer and editor based in Whitehorse. Her work has appeared in Outside, Wired, the Walrus and Canadian Geographic.
Cathal Kelly's memoir, Boy Wonders, reveals a hardscrabble upbringing in a single-parent household during the 1970s and 1980s in Toronto. Kelly shares that he found refuge in popular culture — Dungeons and Dragons, Star Wars and the Lord of the Rings, to name a few things — which shaped his identity in various ways.
Boy Wonders won the 2019 Stephen Leacock Memorial Medal for Humour.
Kelly is a national sports columnist at the Globe and Mail. Boy Wonders is his first book.
Helen Knott is a poet and writer of Dane Zaa, Nehiyaw and European descent. Her memoir, In My Own Moccasins, is a story of addiction, sexual violence and intergenerational trauma. It explores how colonization has affected her family over generations. But it is also a story of hope and redemption, celebrating the resilience and history of her family.
Knott is a social worker and writer. In My Own Moccasins is her first book.
Sarah Kurchak has autism. While she was growing up in the 1980s and 1990s, she realized she was different from her peers — and did everything to overcome it. She changed everything about herself to fit in. It worked, but along the way, she developed anxiety and depression. I Overcame My Autism and All I Got Was This Lousy Anxiety Disorder is a memoir about how Kurchak became an "autism" success story, how it almost ruined her life, and what she did to reclaim her identity and her health.
Kurchak is a writer whose work has appeared in the Guardian, CBC, Vox and Electric Literature. I Overcame My Autism and All I Got Was This Lousy Anxiety Disorder is her first book.
For more than 10 years, Julie S. Lalonde kept a terrifying secret: she was being stalked by her ex. At 20 years old, Lalonde left an abusive relationship, and he would go on to stalk her for the following decade. While Lalonde rose to national prominence as a women's rights advocate, writer and speaker, she would ask herself the same question at every event, rally or conference: Was he here? Resilience is Futile is about this terrifying experience, and also about how we handle trauma and find the strength to not only survive, but thrive. 
Lalonde is a women's rights advocate and public educator. Her writing has appeared on CBC, Wired and Flare. Resilience is Futile is her first book.
In 2016, Liz Levine's sister Tamara committed suicide. In the memoir Nobody Ever Talks About Anything But the End, Levine tells the story of her sister alongside the story of another death that had a huge impact on her life: that of her childhood sweetheart Judson to cancer. Nobody Ever Talks About Anything But the End is a book about grief, and it's messiness, but it's also a book about life and its beauty. 
Levine is a television and film producer who has worked on Story of a Girl and jPod. Her writing has appeared in the National Post, The Walrus and the Vancouver Sun. Nobody Ever Talks About Anything But the End is her first book.
Eternity Martis was smart, bookish and excited to go to university. But once she got to campus, life wasn't what she imagined. She was often the only student of colour in classes, at parties and in dorms, and had to face racial slurs, students in blackface at parties and more on a regular basis. They Said This Would Be Fun is a memoir about the difficulty of navigating through white spaces as a student of colour and asks us to confront the systemic issues that define the college experience for racialized and marginalized students.
Martis is a Toronto-based journalist, author and senior editor at Xtra. Her work focuses on issues of race and gender and has been featured in Vice, Salon, Hazlitt, TVO.org, The Walrus, Huffington Post and CBC. They Said This Would Be Fun is her first book.
Tony McAleer chronicles how he went from being an angry kid in an affluent family to becoming the leader of a neo-Nazi group in his memoir The Cure for Hate. The birth of his child, and the overwhelming sense of love he felt, was a turning point for McAleer. He ended up leaving the neo-Nazi group and, through his book, makes a case for how understanding and compassion can bring people together.
McAleer is a speaker, activist and co-founder of the nonprofit organization Life After Hate. He lives in Vancouver. The Cure for Hate is his first book.
Séan McCann spent 20 years of his life as a founder of Great Big Sea, the bestselling  Newfoundland folk rock band that was known as Canada's biggest party band. But all that partying was a convenient cover for McCann's alcoholism — and the drinking was his way to tamp down the trauma of abuse that he carried with him since his teenage years. It was only when his wife Andrea Aragon gave him the ultimatum, "Stop or I'm leaving," that McCann changed his life for good. McCann and Aragon chronicle their story together in the memoir One Good Reason.
One Good Reason is McCann  and Aragon's first book.
Tessa McWatt was born in Guyana and came to Canada when she was three years old. She grew up in Toronto and spent years living in Montreal, Paris, Ottawa and London. Her heritage is Scottish, English, French, Portuguese, Indian, Amerindian, African and Chinese. Shame on Me is a memoir about identity, race and belonging by someone who spent a lot of time trying to find an answer to the question, "Who are you?" and who has endured decades of racism and bigotry while trying to figure out who she is and where she belongs. 
McWatt is the author of several works of fiction. Her novels include Dragons Cry, Vital Signs and Higher Ed. She is also the co-editor of the anthology Luminous Ink: Writers on Writing in Canada. Shame on Me is her first work of nonfiction.
In her memoir, Falling for Myself, Dorothy Ellen Palmer makes a passionate case for disability justice. She was born with congenital anomalies in both feet. In Falling for Myself, she depicts her coming to terms with the past — and describes her discovery and embrace of activism.
Dorothy Ellen Palmer is a writer, educator, accessibility consultant and activist. She is also the author of the novel When Fenelon Falls.
From childhood, Lorimer Shenher knew he was a boy, though he was being raised as a girl. In This One Looks Like a Boy, Shenher tells his story of struggling with gender dysphoria before finally coming to accept he is trans and undergoing surgery in his 50s.
Shenher is also the author of the book That Lonely Section of Hell, in which he describes his experiences working on the case of serial killer Robert Pickton.
Jesse Thistle is a Métis-Cree academic specializing in Indigenous homelessness, addiction and inter-generational trauma. For Thistle, these issues are more than just subjects on the page. After a difficult childhood, Thistle spent much of his early adulthood struggling with addiction while living on the streets of Toronto. Told in short chapters interspersed with poetry, his memoir From the Ashes details how his issues with abandonment and addiction led to homelessness, incarceration and his eventual redemption through higher education. 
Thistle was a recipient of the Governor General's Silver Medal in 2016. From the Ashes is his first book. George Canyon will defend From the Ashes on Canada Reads 2020.
When Alison Wearing's father, Joe, is diagnosed with Parkinson's Disease, he decided to travel to Ireland to learn about his family's heritage, and invites his daughter along. Their trip ends up not only being an exploration of their family history, but also their own relationship as they grapple with Joe's declining health. Moments of Glad Grace is a memoir that chronicles this pivotal moment in both their lives.
Wearing is playwright, performer and author. Her other books include Honeymoon in Purdah: An Iranian Journey and Confessions of a Fairy's Daughter. Confessions of a Fairy's Daughter was shortlisted for the Edna Staebler Award for Creative Non-Fiction and longlisted for the RBC Taylor Prize.
Jenny Heijun Wills was born in Korea, but was adopted by a Canadian family and raised in a small town. When she was in her early 20s, she decided to travel back to Korea to meet her extended birth family and other young people who were adopted from Korea and raised abroad. Older Sister. Not Necessarily Related. shares Wills's journey and also explores the impact of being raised by a family of a different ethnicity and culture.
Older Sister. Not Necessarily Related. won the Hilary Weston Writers' Trust Prize for Nonfiction.
Wills is an associate professor at the University of Winnipeg. She has co-edited two academic books.