Books
17 books to celebrate Asian Heritage Month in Canada
May is Asian Heritage Month in Canada. To celebrate, here's a list of 17 works of fiction, nonfiction, poetry and comics by Canadians of Asian descent.
May is Asian Heritage Month in Canada. To celebrate, here's a list of 17 works of fiction, nonfiction, poetry and comics by Canadians of Asian descent.
In The Library of Legends, 19-year-old Hu Lian and her classmates are ordered to flee as Japanese bombs start to land on Nanking. It's not just refugees who are in danger — Lian has been entrusted with a 500-year-old collection of myths and legends known as "The Library of Legends." It's now up to Lian and her classmates to protect the collection at any cost.
Janie Chang is a historical fiction writer. Chang's first novel, Three Souls, was a finalist for the 2014 Ethel Wilson Fiction Prize and nominated for the 2015 International Dublin Literary Award. She published her second novel, Dragon Springs Road in 2017.
A constant flow of radical updates from the government throw citizens into turmoil. At the government's department of complaints, the narrator of Familiar Face sorts through an endless pile of citizen-reported issues that range from trivial to heartbreaking.
Michael DeForge is a Toronto-based creator who has won awards for comics like Leaving Richard's Valley, Dressing and Lose #1. Other acclaimed books include Stunt, Big Kids, Ant Colony, Sticks Angelica, Folk Hero and more.
Samra Habib's memoir We Have Always Been Here is an exploration of the ways we disguise and minimize ourselves for the sake of survival. As a child, Habib hid her faith from Islamic extremists in Pakistan and later, as a refugee in Canada, endured racist bullying and the threat of an arranged marriage. In travelling the world and exploring art and sexuality, Habib searches for the truth of her identity.
We Have Always Been Here is a contender for Canada Reads 2020, to be defended by Amanda Brugel.
Heft is a conceptual look at rupture and resilience in today's world. The poems look at the nature of illness, pain and sexuality. Heft casts its lens on normal female sexual experience and the notion of home in light of chronic pain and suspected autoimmune illness on a personal level. Doyali Islam's sophomore collection was on the 2020 Griffin Poetry Prize shortlist.
Islam is the editor of Arc Poetry Magazine and the author of two poetry collections. Her other poetry collection is Yusuf and the Lotus Flower. 
There Has to Be a Knife is about a chef who unravels after the death of his ex-girlfriend. When Omar Ali is informed his ex-girlfriend Anna has died, he resolves to retrieve her suicide note from her parents. Filled with grief and unable to cope, the 27-year-old line cook spirals out of control, participating in break-ins and online terrorism.
Adnan Khan was the recipient of the 2016 RBC Taylor Prize for Emerging Writers and was a reader for the CBC Nonfiction Prize in 2017. There Has to Be a Knife is Khan's first book.
This collection grapples with our understanding of depression, anxiety and mental health — topics not often explored in poetry. Pineapple Express captures the vapidity of depression and the onset of mid-life, from physical and psychological changes to eventually feeling invisible.
Evelyn Lau is the author of eight poetry collections. Her memoir Runaway: Diary of a Street Kid, which recounts her time living on the streets of Vancouver, was published when she was 18 years old. She has won the Milton Acorn Award, the Pat Lowther Award and a National Magazine Award.
David Ly's debut poetry collection explores the many facets of queer love. The book builds on themes of toxic masculinity, race and identity in the 21st century.
Ly lives in Vancouver. His poetry has appeared in publications like The Puritan, PRISM international and The Temz Review. He read from Mythical Man as part of a cross-country digital literary event called #CanadaPerforms.
Joshna Maharaj is a chef on a mission: to make the food offers at institutions — schools, hospitals, cafeterias — better, healthier, more nourishing, more sustainable and more delicious. She's been doing it for over a decade. Take Back the Tray is Maharaj's story about how she became an activist-chef, but it's also a manifesto for why we should make institutional food better and a blueprint for how we can go about making it happen.
Maharaj is a chef, food expert and activist who has appeared on CBC and TVO. Take Back the Tray is her first book.
Abandoning the city for the picturesque countryside, Priya and Alexandra attempt to give themselves a new lease on life in the novel Polar Vortex. That is, until Priya reveals that she is running from a fraught relationship with a friend who kept pursuing her: Prakash. After Priya feels safe enough to once again establish an online presence, Prakash communicates with her. Inexplicably, Priya asks Prakash to visit them. 
Shani Mootoo is a writer and visual artist who has been longlisted for the Man Booker Prize. Her debut novel was 1997's Cereus Blooms at Night.
Burning Province, Michael Prior's second collection, is set amid the wildfires that moved through British Columbia from 2015 to 2017. The poems deal with generational trauma, grief, love and inheritance, while moving between physical and psychological landscapes.
Prior is writer, poet and teacher. His poems have appeared in many publications across North America and the U.K., including The Next Wave: An Anthology of 21st Century Canadian Poetry. Prior's poetry explores his Japanese-Canadian identity and the impacts of the Japanese internment upon his family legacy.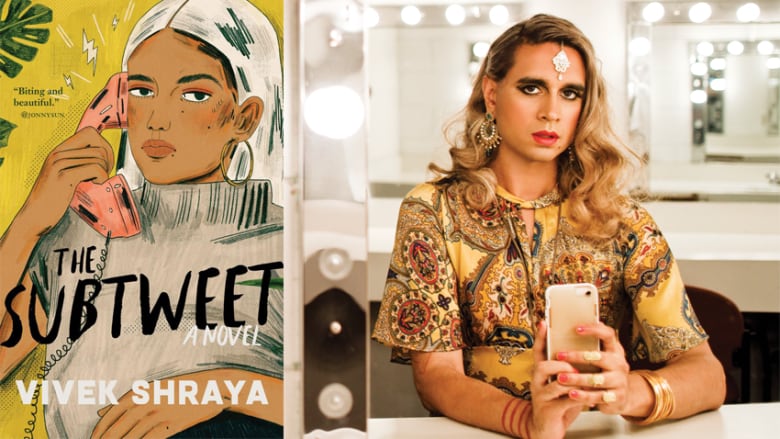 In The Subtweet, Neela Devaki's song is covered by an internet-famous artist named Rukmini. When the two musicians meet, a transformative friendship begins. But, as Rukmini's star rises, jealousy creeps in, and Neela sends out a highly-destructive tweet that blows up their friendship. 
Vivek Shraya is a writer, artist and musician from Alberta. Her books include the novel She of the Mountains, the poetry collection even this page is white, the essay I'm Afraid of Men and the comic book Death Threat.
26 Knots weaves a complicated love story: Araceli falls for a fellow journalist named Adrien, who is already in love with Pénélope, who can't decide between him and Gabriel, who is too traumatized by his father's abandonment to be a good partner. 
Bindu Suresh is a fiction writer and pediatrician based in Montreal. 26 Knots is her first book.
How to Pronounce Knife is a collection of idiosyncratic and diverse stories. Capturing the daily lives of immigrants, Souvankham Thammavongsa captures their hopes, disappointments, trauma and acts of defiance. From a young man painting nails in a salon, to a housewife learning English from soap-operas, How to Pronounce Knife navigates tragedy and humour.
Thammavongsa is a writer and poet. Her stories have won an O. Henry Award and appeared in Harper's, Granta, The Paris Review and NOON. She has published four books of poetry, including 2019's Cluster. 
In the graphic novel Plummet, Amelia "Mel" Eichenwald wakes up to discover that the Earth has disappeared and left her in an endless state of freefall. Surrounded by falling knick-knacks, homes and a few other humans — some friendly and some not — Mel must figure out a way to survive in this strange gravity-centric reality.
Sherwin Tjia is an illustrator from Montreal. Plummet is his 11th book. 
In Mysterious Dreams of the Dead, 30-something Mike Shintani decides to address the mysterious circumstances of his father's death when he was 15 — after perishing in a plane crash, Mike's father's body was never found. Mike finds a diary written in Japanese, which sets him on a pathway to finding out the truth of his father's mysterious life. 
Terry Watada is a poet, playwright and author based in Toronto. He is also the author of the novel The Three Pleasures.
Jenny Heijun Wills was born in Korea, but was adopted by a Canadian family and raised in a small town. When she was in her early 20s, she decided to travel back to Korea to meet her extended birth family and other young people who were adopted from Korea and raised abroad. Older Sister. Not Necessarily Related. shares Wills's journey and also explores the impact of being raised by a family of a different ethnicity and culture.
Older Sister. Not Necessarily Related. won the Hilary Weston Writers' Trust Prize for Nonfiction. Wills is an associate professor at the University of Winnipeg. She has co-edited two academic books.
When Samra Zafar was 15 years old, she was told by her mother that a great match had been found, and she was to be married — to a man who lived in Canada and was 11 years older than her. Despite having her own dreams and goals, Zafar got married, moved to a new country and started a family. But when her relationship became abusive, Zafar knew she must leave and build a new life for her children. Zafar has written about her experience in the book A Good Wife.
Zafar is now a public speaker, activist and human rights activist. She was named one of Canada's 100 most powerful women in 2019.