Books
16 Canadian books to read for Pride Month
Check out these books by LGBTQ Canadian creators.
June is Pride Month. Check out these 16 books by LGBTQ Canadian creators.
Angry Queer Somali Boy is a memoir by Mohamed Abdulkarim Ali, a young man who left Somalia, spent time in the Netherlands and ended up homeless in Canada. Canada was the promised land, but when he didn't fit in and life was more difficult than he expected, Ali turned to drugs and partying before finding his way. 
Angry Queer Somali Boy combines Ali's personal story with the history of and commentary on the places he's called home: Somalia, Europe and Canada. It's his first book.
In NDN Coping Mechanisms, Billy-Ray Belcourt uses poetry, prose and textual art to explore how Indigenous and queer communities and identities are left out of mainstream media. The work has two parts — the first explores everyday life and the second explores influential texts such as Treaty 8.
Belcourt is a writer and academic from the Driftpile Cree Nation. He won the Griffin Poetry Prize for his first poetry collection, This Wound is a World. CBC Books named Belcourt a writer to watch in 2018.
The unnamed narrator of Theory is constructing an all-encompassing thesis on the past, present and future of art, culture, race, gender, class and politics. Their dissertation is inevitably impacted by three passionate love affairs, one following the other, which each re-shape and reorient the narrator's life and work.
​Brand is an award-winning poet and novelist. She won the 2011 Griffin Poetry Prize for Ossuaries and in 2017, she was named to the Order of Canada. Her other books include the poetry collections Land to Light On, thirsty and The Blue Clerk and the novel What We All Long For.
The Gospel of Breaking draws on Jillian Christmas's politics, family history and queer lineage, telling stories of love lost, friendship and community. 
Christmas is an educator, activist and community organizer who focuses on increasing anti-oppression initiatives in spoken word. She is the former artistic director of Vancouver's Verses Festival of Words.
Belated Bris of the Brainsick is a poetry collection from Lucas Crawford that "is the pursuit of a 'queered' version of health." It explores mental illness, disability and the discovery of one's family history in order to bring different perspectives of health, wellness and illness into the conversation.
Crawford is based in New Brunswick and is also the author of the poetry collection Sideshow Concessions and the academic text Transgender Architectonics.
Ivan Coyote is a filmmaker, storyteller and writer. Rebent Sinner is an essay collection from various aspects of Coyote's life: helping younger LGBTQ folks, paying homage to their heroes, dealing with legislation and governments and being part of protests. Rebent Sinner is about Coyote's journey and shares a message of resilience, inclusion and hope.
Coyote's previous memoir, Tomboy Survival Guide, was a finalist for the Hilary Weston Writers' Trust Prize for Nonfiction in 2017.
Samra Habib's memoir We Have Always Been Here is an exploration of the ways we disguise and minimize ourselves for the sake of survival. As a child, Habib hid her faith from Islamic extremists in Pakistan and later, as a refugee in Canada, endured racist bullying and the threat of an arranged marriage. In travelling the world and exploring art and sexuality, Habib searches for the truth of her identity. 
We Have Always Been Here will be defended by Amanda Brugel on Canada Reads 2020.
Habib is a journalist, photographer and activist based in Toronto. CBC Books named Habib a writer to watch in 2019. We Have Always Been Here is her first book.
A few years ago, Gemma Hickey did a 908-kilometre walk across the island of Newfoundland. They did it to raise awareness and money for survivors of institutional religious abuse. Their memoir, Almost Feral, describes that journey and the equally hard road of coming to terms with their identity throughout the journey — digging into the good and bad in their past along the way with an eye on motivating others to accept themselves and what they stand for. 
Hickey is a writer and activist based in St. John's. Almost Feral is their first book.
High School shares the life story of the famous identical twins and LGBTQ icons. Tegan and Sara Quin grew up in Calgary at the height of grunge and rave culture in the 1990s. High School is written in chapters alternating between Tegan's point of view and Sara's and explores how they coped with their parents' divorce and how they navigated issues around love, drugs, sexuality, queer identity and academic pressures during their high school years. 
Tegan and Sara have been performing together for 20 years and have released nine albums. Their most recent album, Hey, I'm Just Like You is a companion work to High School and consists of songs they first wrote in high school.
Rachel Matlow's mom Elaine was a creative free-spirit, personality traits Rachel celebrated. This was until Elaine is diagnosed with cancer and decides to treat her illness with natural remedies, leaving Rachel to face the fact that what made her mom so special is what's going to kill her. Dead Mom Walking is the story of Rachel, Elaine and Elaine's cancer — based on Rachel's memories, Elaine's journals and the hours of tape they recorded together as they prepared to say goodbye.
Matlow was a producer at CBC Radio and worked on several programs including q, Spark and The Sunday Edition. Dead Mom Walking is her first book and is inspired by Matlow's documentary Dead Mom Talking, which aired on The Sunday Edition.
Abandoning the city for the picturesque countryside, Priya and Alexandra attempt to give themselves a new lease on life in the novel Polar Vortex. That is, until Priya reveals that she is running from a fraught relationship with a friend who kept pursuing her: Prakash. After Priya feels safe enough to once again establish an online presence, Prakash communicates with her. Inexplicably, Priya asks Prakash to visit them. 
Shani Mootoo is a writer and visual artist who has been longlisted for the Man Booker Prize. Her debut novel was 1997's Cereus Blooms at Night.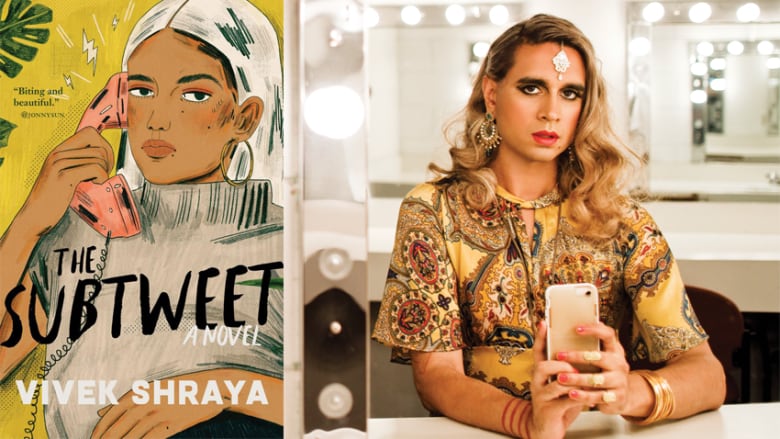 In The Subtweet, Neela Devaki's song is covered by internet-famous artist Rukmini. When the two musicians meet, a transformative friendship begins. But, as Rukmini's star rises, jealousy creeps in, and Neela sends out a highly-destructive tweet that blows up their friendship. 
Vivek Shraya is a writer, artist and musician from Alberta. Her books include the novel She of the Mountains, the poetry collection even this page is white, the essay I'm Afraid of Men and the comic book Death Threat.
The writing of Red River Métis poet, writer, academic and activist Gregory Scofield has helped shape contemporary Indigenous writing. His poetry collections include Love Medicine and One Song and Witness, I Am. He's also the author of the memoir Thunder Through My Veins. Published in 1999 at the age of 33, Thunder Through My Veins recounts Scofield's early life and his experiences defining his identity and place in the world.
Thunder Through My Veins was republished in 2020 with a new foreword.
Junebat is set during the year John Elizabeth Stintzi lived in Jersey City coming to terms with their gender identity. The poems deal with depression, love and metamorphosis, allowing the reader to explore the possibilities that exist beyond society's often rigid boundaries.
Stintzi is a non-binary writer from northwestern Ontario. They won the 2019 RBC Bronwen Wallace Award for Emerging Writers and the Malhat Review's 2019 Long Poem Prize. Stintzi is also the author of two poetry chapbooks and the novel Vanishing Monuments.
I Hope We Choose Love is a collection of essays and prose poems from Kai Cheng Thom. Thom explores several social movements and the issues that complicate them, such as violence, complicity and forgiveness. She calls for respect, nuance, understanding and love as we work toward making the world a better place.
Thom is a writer, performer and social worker. Their books include the children's book From the Stars in the Sky to the Fish in the Sea, a semi-autobiographical poetry collection called a place called No Homeland and the novel Fierce Femmes and Notorious Liars: A Dangerous Trans Girl's Confabulous Memoir.
Rinaldo Walcott takes a look at categories of "queer and Black" and "Black queer" through the lens of multiculturalism and Canadian identity in Queer Returns. The essay collection reflects on how capitalism, colonialism and sexual identity intersect and shape culture, politics and Black expression. 
Walcott is a professor at the University of Toronto, where he is the director of women and gender studies and teaches at the Ontario Institute for Studies in Education.