Arts
·
Point of View
How poetry about Indigenous connection to our land gave me strength through my gender transition
Writer and artist Rowan Sky reflects on how the work of fellow Indigenous poets has helped them understand their gender identity and transition.
Rowan Sky reflects on how fellow Indigenous poets have helped them understand their own identity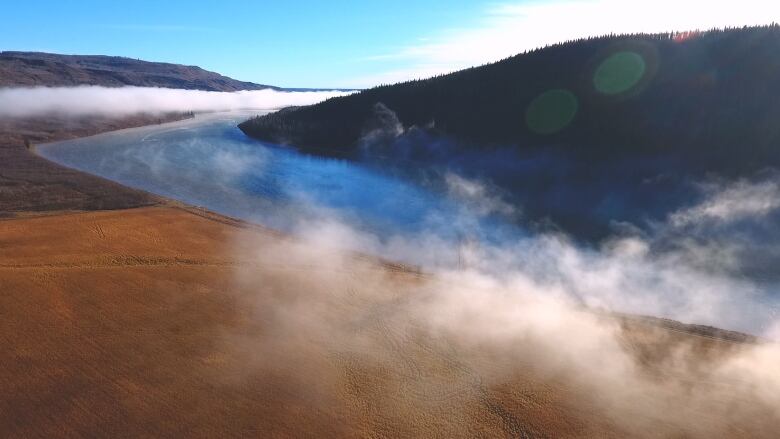 I do a lot of writing while hurtling through dirt and concrete under the city, on the subway. The movement activates a rhythm that influences my spoken word poetry. When I lived on Bloor St. I did a lot of thinking underwater, in the bath, feeling the vibration of the subway around me as it shook the fluid between my hairs and across my skin. It's a rumble in my head every two to five minutes before the crack of first light until after dark. Everything works in cycles — some cosmic, some mitigated by people and technology. I flow through gender expressions as I negotiate different roles and spaces. Wherever I am in the world and on my gender journey, my connections to land, water and community give me strength and are a continual source of reflection. I pour out these reflections in my writing.
I recently listened to the work of three Indigenous authors who presented at the Decolonial Love reading and talk, hosted by Another Story Bookshop and Pages UnBound earlier this summer. I read some of Gwen Benaway's book Passages just before the talk, and I'm caught by her references to the lakes and our shared fascination of watery imagery — of water and land as an embodiment of our presence in the world. I think about the interconnected geography of the Great Lakes, the cycle of water, the connection of the land to the water. When struggling with femininity in my writing, I often summon up water. But usually I would be drowning in its body and surrounded by endless horizon, or contemplating its darkness at a depth far from the sky. What Benaway has to say about being a trans woman captures my attention — I can relate to transitioning gender and living in a transphobic world. She might understand pieces of my experience, even as we navigate very different gender journeys and, at times, very different feelings about water.
What are you? Who are you? Who do you belong to? Where are you from? How do I secure my identity and find my voice? Am I real? Am I enough? We too often turn the interrogation back on ourselves. Gregory Scofield expressed this well when he read the piece "This is not a manifesto (Club Reprise)" from his book Witness, I Am at the Decolonial Love talk. When Scofield says, "I am part of this land I am this land / split my guts and you'll see muskeg," in a poem that speaks of racial and cultural belonging and suggests experiences of lateral violence, it resonates with how I navigate my own difficult sense of belonging in the Indigenous community. Muskeg is a mixture of water, earth and vegetation particular to Cree land, and Scofield says he is an embodiment of that land in a poem laced with Cree language. I'm reminded of one of the first phrases I learned in the Oneida language: "Onyota'a:ká: niwakuhutsyó:tʌ," a phrase which commonly translates to the English meaning, "Oneida is my nation."
This past February I listened to Leanne Betasamosake Simpson's album f(l)ight on repeat. Her music was an aural backdrop to my first baby steps as a trans person out in the world. At the talk, Simpson said her work is an honest affirmation of Anishinaabe experience and the experiences of Indigenous women, and a reflection of her relationships with people. She frames her approach as freedom, not vulnerability. The difference is a perspective that emphasizes Indigenous people's strengths, and the maintenance of a caring connection with her community. I think about my own connections — not just my mentors and the stars I look up to, but the people that hold me in my everyday life, and whom I hold as family. As Indigenous people, we are the land, and the maintenance of our presence and practices on the land constitute our bodies and connect our communities. In urban environments, our connection to land can feel muted, occasional or disrupted, and our relationship with each other becomes even more essential.
As a trans person, embodying a spiritual or ceremonial role in a community context can be difficult because of rigid gender roles and taboos. Even in a place like Toronto — a gathering place of many minds and cultures — I am told by some that it is not possible for me to embody a spiritual and ceremonial life as a male. Women embrace their skirts and carry water; men hold drum beats and whisper fire. I don't belong in the roles others presume I am destined to fulfill, and I have not been easily encouraged by others to step into roles that fulfill me. When I split my guts, I find fire and song. Being trans is a fight to not be extinguished or silenced. I've struggled to connect to land spiritually, as ceremonial roles in community are so difficult to navigate as trans and genderqueer.
Wherever I am in the world and on my gender journey, my connections to land, water and community give me strength and are a continual source of reflection. I pour out these reflections in my writing.- Rowan Sky
I recently moved away from the main arteries of the city, and I have a yard for the first time since I was a teenager. New rhythms roll around in my mouth while I'm writing. There's an old rusty shovel in my backyard. When I first picked it up and pushed it into the garden bed, I knew this object would become a poem. The rough handle was suddenly imprinted on my hands. When I write about it, I close my eyes, smell the dirt and hear the sound of robins while they dance across the lawn. I sing to them: Yo ho yo, yo ha-way-hey. I feel the fresh crunch of rusty shovel blade against roots and hardened soil. I try to describe my gender and sexuality entirely through the experience of this shovel in the land: I dig so I can grow.