Arts
·
COVID Residencies
A tattoo artist's quarantine story: Everyone wanted toilet paper but Liz Kim wanted eggs
While she couldn't tattoo, she painted hand fans — and used them to create odes to her most treasured quarantine scarcity.
While she couldn't tattoo, she painted hand fans — and used them for odes to a treasured quarantine scarcity
In our self-shot video series COVID Residencies, we're checking out how artists are adapting their practices in isolation, whether it's diving into different processes or getting lost in their sketchbooks.
Liz Kim is finally back tattooing after a three-month hiatus. Once the pandemic hit, the tattoo world was shut down. Many tattoo artists were finding ways to expressive themselves through different artistic mediums that didn't involve puncturing someone's skin with a needle. For Kim, she found solace in hand fans.
Yes, like the hand fans you use to cool yourself down. "It's been nice to pick up a paint brush again and work on something that isn't tattoos," she says.
The Edmonton-raised, Los Angeles-based artist buys a basic wooden hand fan and peels off the paper, then paints her image on Korean mulberry paper called hanji. Then she inserts the finished work onto the fan.
One common element that you will notice on all of her fans is eggs! During the mist of panic shopping, Kim had her eyes on the prize. "Eggs were like the scarce thing for me. Everyone was looking for toilet paper and I was just desperate for some eggs. I just thought I would make some fans that were an ode to eggs." 
In this video, watch Liz Kim make a beautiful hand fan in her cute Los Angeles home. It might inspire you to make your own this summer. Imagine you just casually pull out a hand fan in the middle of a socially distanced hang with your friend and on the fan is a picture of that very friend you are hanging with. That would be totally weird...but cute? You will never know if you don't try.
At the time of filming, Kim confessed, "Since I started tattooing, I really haven't had anytime to do anything else. It's an industry where it kind of takes over your life once you start doing it." Now she's back to business and booked up for the next couple months. I predict we will start seeing more egg tattoos from here on out.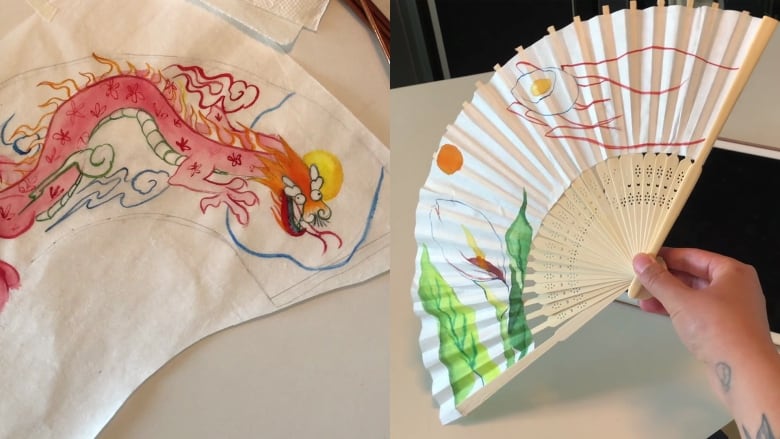 CBC Arts understands that this is an incredibly difficult time for artists and arts organizations across this country. We will do our best to provide valuable information, share inspiring stories of communities rising up and make us all feel as (virtually) connected as possible as we get through this together. If there's something you think we should be talking about, let us know by emailing us at cbcarts@cbc.ca. See more of our COVID-related coverage here.