Love, loss and pianos
Join the X for the beautiful music that comes from the one piano and four hands of the musical marriage of Alessio Bax & Lucille Chung, and the beautiful meditation of love and the loss of a piano loving man, from poet Phyllis Nakonechny.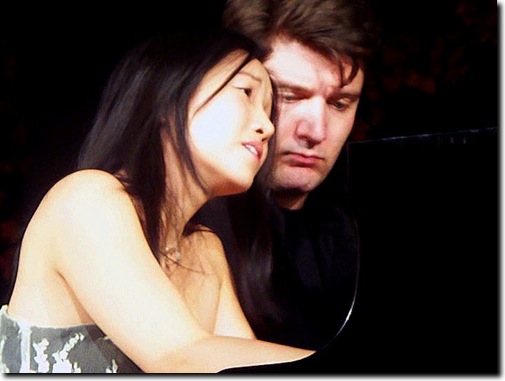 The real life marriage of two great concert pianists, Alessio Bax and Lucille Chung, has led to one of the best piano duos of their generation. To site from Music and Arts, UK magazine, "Theirs is a marriage of wondrous colours and dextrous aplomb, subtly balanced to make a musical performance sound as one."
A musical love story, Bax and Chung first met at the 1997 Hamamatsu Competition. In 2003, the Ottawa Chamber Music Festival had the brilliant idea to put them together as a piano duo at the National Arts Centre for their Piano Extravaganza, where their performance was hailed as "a lucid and deeply moving musical experience" (American Record Guide). Since then, the two-piano and piano-four-hand format has become an important addition to both of their solo careers and the duo has appeared with the Israel Chamber Orchestra, Fort Worth Symphony Orchestra, Irving Symphony Orchestra, South Dakota Symphony, New Philharmonic Orchestra, Greater Dallas Youth Orchestra, and EurOrchestra di Bari.
Performing together on many of the world's most prestigious platforms, Bax & Chung have appeared in the United Kingdom, Spain, Germany, Italy, Switzerland, Israel, Palestine, Korea, China, Barbados, Aruba, Guatemala, USA and Canada. Festival appearances include the Verbier Festival in Switzerland, the opening concert of the Chungmu Hall in Seoul, Korea, the Pau Casals, Castilla y Leon, Denia, Alicante, and Pamplona International Festivals in Spain, the Felicja Blumental Festival in Tel Aviv, the Lübecker Kammermusikfest in Germany, EurOrchestra Piano Festival in Italy, Ottawa Chamber Festival in Canada, Bravissimo Festival in Guatemala, Aruba International Piano Festival, the Bard Festival and Dakota Sky Festival in the US. This past season saw Bax& Chung perform in more than 23 performances across the Prairie Provinces as part of the 2010.11 Prairie Debut roster. This season, they will tour the Atlantic Provinces as part of Debut Atlantic's 2011.12 roster and will also appear in recital in Ontario, British Columbia and the Yukon.
Recording the complete works of György Ligeti for piano hour hands as well as two pianos on the Dynamic label, The Bax & Chung Duo was garnered the maximum R10 Classica from the French magazine Répertoire and 5 Stars from Fono Forum in Germany. In 2006, they released Saint-Saëns' Carnival of the Animals with the Fort Worth Symphony Orchestra under Miguel Harth-Bedoya and Michael York as narrator. In addition to their recordings, the duo's live broadcast performances on CBC radio Canada have established them as one of the most dynamic Canadian piano duos of their generation.
Connecting with audiences as a powerful duo couple, Bax & Chung are a perfect combination of balance, unity and individual personalities. Watch them play:
In Vidh: A Book of Mourning, Phyllis Nakonechny hopes "to break through the unspoken code of secrecy that surrounds the experience of loss". The book contains a collection of "small moments in time that occur over a period of four years. Each is a concise representation of a brief instance occurring in the larger panorama of grief."
Vidh: A book of Mourning is a story of the loss of love and of learning to live without a partner. The experienced outlined in this journey into widowhood, will help others to find what they need and struggle to find in their journey into grief.
"How beautiful, how beautiful and heartbreaking! Though written in prose, this book speaks in the primal language of poetry. There is no self-pity here, no sentimentality, just a clear-eyed look at what it means to lose a beloved husband. I wept, and at the same time, I felt blessed. No one else has written about this kind of loss with such delicacy and toughness."
Lorna Crozier