Stephen Harper wrapped up a busy three days of meetings in India on Wednesday with a visit to the Sikh Golden Temple in Amritsar.
The prime minister's visit to the sprawling temple attracted dozens of cameramen and photographers, who bumped and jostled with security personnel and made for a chaotic visit to the shrine.
The visit contrasted with Harper's trip on Tuesday to the world's largest Hindu temple in New Delhi, where he and his wife, Laureen, were able to walk the wide-open grounds with little fanfare.
Sikhism's holiest site, the Golden Temple is also the site of a dark moment in Indian history, when the country's army stormed the temple in 1984 in a violent clash with Sikh militants.
The incident is believed to have been one of the motivating factors behind the bombing of an Air India flight out of Canada a year later. A total of 329 people died when the jumbo jet went down in the Atlantic Ocean off the coast of Ireland.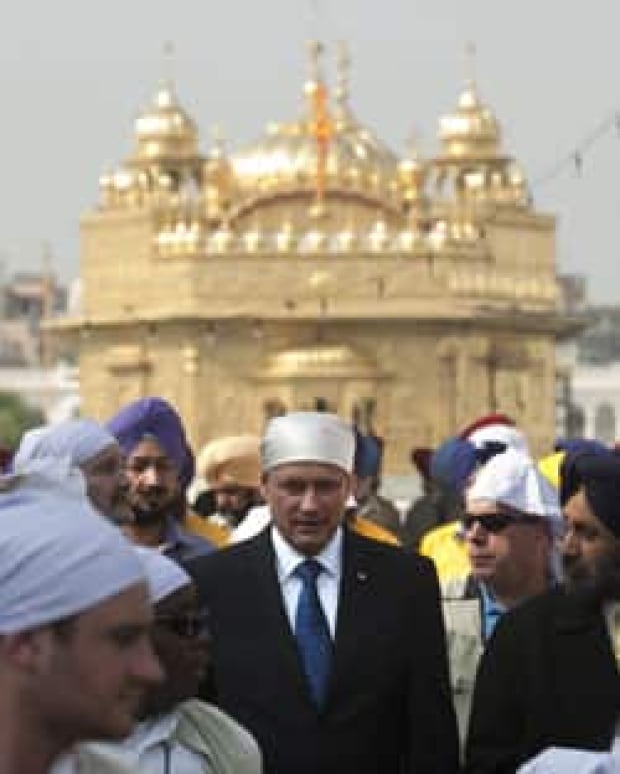 Jean Chrétien also visited the temple in 2003.
Trip promoted trade and tourism
Harper spent the last few days meeting with Indian government officials and businessmen in an effort to boost trade relations between Canada and India.
Those trade talks included discussion about a possible nuclear co-operation deal, one that could see a resumption of sales of nuclear equipment to India. Canada's nuclear trade with the country stalled in 1974, when India tested its first atomic weapon with the unauthorized help of Canadian nuclear technology.
In Ottawa on Tuesday, the NDP and Bloc Québécois assailed the Harper government for pressing ahead with plans to sell Canadian nuclear technology to India without insisting that India sign a global non-proliferation treaty.
Liberal foreign affairs critic Bob Rae supported the government's stance, however, arguing that India has changed since it first developed nuclear weapons "a long time ago" in 1974.
The trip also allowed Harper to sell himself back home, with visits to the holy temples and appearances alongside Bollywood actor Akshay Kumar and contestants on the reality show Dance Premier League.
Harper is scheduled to return to Canada on Thursday morning.
With files from The Canadian Press