Three astronauts are on their way to the International Space Station today, on a journey that will take less time than a flight from Halifax to Vancouver.
Instead of the usual two-day journey to the space station, Russian cosmonauts Alexander Misurkin and Pavel Vinogradov and American astronaut Chris Cassidy are expected to get to their destination less than six hours after blasting off from the Baikonur Cosmodrome in Kazakhstan at 4:43 p.m. ET Thursday, NASA reports.
The trio will be the first humans to take this new, faster trajectory to the space station. The rendezvous techniques needed to make it work have been successfully tested with three unmanned Russian Progress cargo spacecraft over the past eight months.
Soyuz is expected to dock at the space station's Poisk module at 10:32 p.m., and at 12:10 a.m., its crew will join the space station's Canadian commander, Chris Hadfield, NASA astronaut Tom Marshburn and Roscosmos astronaut Roman Romanenko on board the orbiting laboratory.
Hadfield, Marshburn and Romanenko arrived at the space station last December.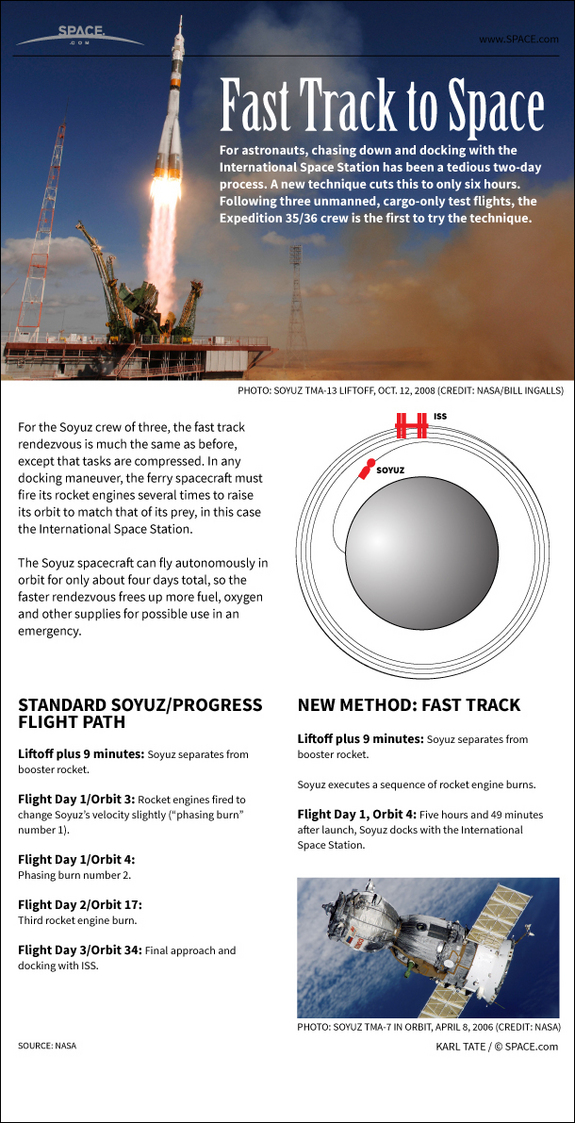 Source
SPACE.com: All about our solar system, outer space and exploration