Passenger trains like the ones run by Via Rail are on a Transportation Safety Board watch list because the risk of collision at level crossings is too high, the TSB says.
A collision Wednesday morning between a Via Rail train and an OC Transpo bus in an Ottawa suburb killed six people, including the bus driver, and has drawn five federal investigators to the scene.
Glen Pilon, the lead investigator for the TSB, said a team from the agency's engineering lab and human performance group, as well as rail investigators, are gathering information and trying to get event recorders from the train.
The recorders will tell investigators how fast the train was going and when the brakes were applied.
Pilon said the agency has warned in the past about the danger of passenger trains at level crossings like the one where Wednesday's crash occurred.
Rail deaths reported, 2003-12
91% of all train deaths involved Via Rail trains.
62.5% of deaths involving Via Rail trains caused by people wandering onto tracks.
18.8% of deaths involving Via Rail trains occurred at rail crossings.
Source: Transportation Safety Board of Canada
Analysis: Power & Politics
"This type of investigation is going to get a priority from the Transportation Safety Board. It is something we have been watching," he said.
"Specifically crossings involving Via trains at crossings in the [Quebec City-Windsor] corridor is a watch-list concern of ours."
The rail corridor between Quebec City and Windsor is Canada's busiest route and includes Montreal and Toronto. Wednesday's deadly collision was not on that main railway corridor, but it did occur at a level-crossing with a main roadway.
The TSB says there were 71 accidents between passenger trains and vehicles on the route in the past 10 years. The agency says warning signs at the crossings help reduce the risk by making drivers aware of the crossing.
"Because of the chance for loss of life with Via trains, those are one of those things we want to make sure don't happen again," Pilon said, clarifying that he was referring to crossing accidents between "passenger trains and vehicles at crossings."
Statistics on the TSB website show that from 2003 to 2012, the number of Via Rail crossing accidents ranged from 11 in 2012 to 28 in 2005.
Investigators at the site
A news release from the Transportation Safety Board said it has dispatched three investigators to "gather information and assess the occurrence."
Federal Transport Minister Lisa Raitt said Transport Canada, a separate agency, has dispatched two officials and will assign a ministerial observer to the accident to support the TSB investigation, an official told CBC News.
The TSB is an independent agency that investigates to:
Find the causes and contributing factors of accidents.

Identify safety deficiencies after incidents.

Make recommendations to reduce those deficiencies.
Transport Canada inspectors look at whether federal regulations were followed.
Raitt said on Twitter that the incident was "terribly tragic."
The Railway Association of Canada says there were 169 crossing collisions in Canada in 2011, with 25 deaths and 21 serious injuries. Accidents were down slightly, 6.6 per cent, from the year before.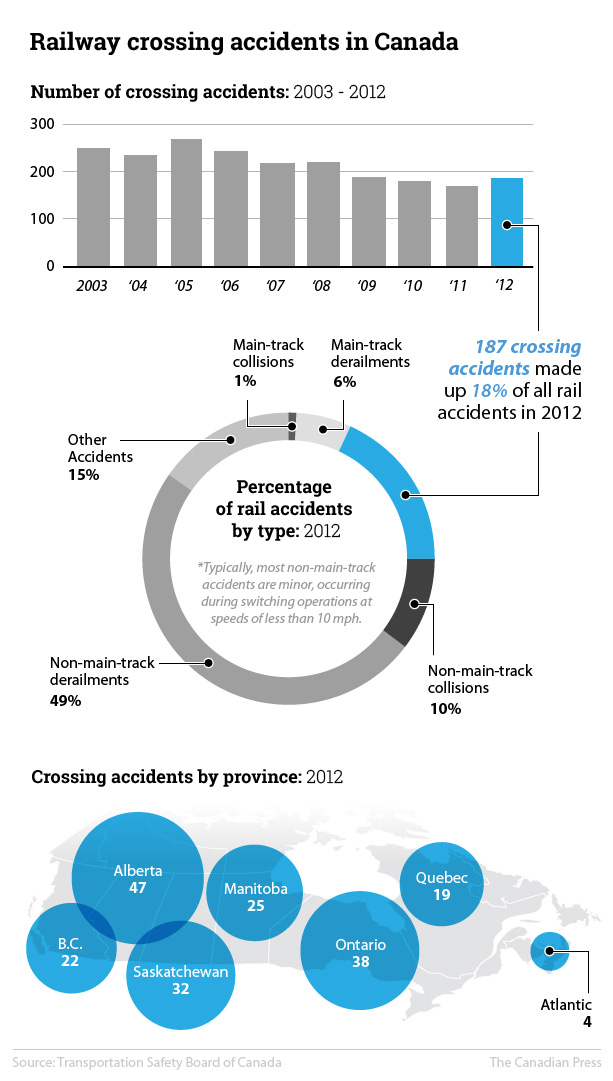 Baird calls crash 'horrific accident'
Prime Minister Stephen Harper called it a "tragic morning in the nation's capital."

"On behalf of all Canadians, Laureen and I extend our thoughts and prayers to all those affected by this tragedy. I would like to commend all of the first responders who acted quickly to assist those in need."
Foreign Affairs Minister John Baird, the MP for the neighbouring riding of Ottawa West-Nepean, called the crash a "horrific accident."
"I am extremely proud of the resiliency of the people of Ottawa and how we face adversity and tragedy together as a community. I have no doubt that today, our city will mourn those we've lost, and support those in need as we move forward as a city, and as a community," Baird said in a statement.
Pierre Poilievre, the MP for Nepean Carleton, the riding in which the crash happened, called it "truly devastating" for the community.
"I offer my deepest condolences to the people whose lives have been affected by this tragedy and the loss of life that has shocked us all. I would also like to wish a speedy recovery to the people injured in this tragic event," he said in a statement.
Politicians offer condolences
Another area MP, Liberal David McGuinty, said the community will support those touched by the collision.

"I was deeply sorry to hear of this terrible train and bus collision in southwest Ottawa. My deepest sympathies go out to all those who have been impacted by this accident and their loved ones. Your community is here to support you as we grapple with this tragic event."
Liberal Leader Justin Trudeau said in a statement that he was "terribly saddened."
"These next few hours are of vital importance, and it is reassuring to see the swift assistance of our emergency response personnel. We are standing with all those affected by this awful collision."
Speaking to reporters, he noted he was a regular on the train.
"All of Ottawa has been rocked by this horrific accident this morning," Trudeau said. "Our thoughts and condolences go out to the families affected. As someone who's taken that train from Montreal to Ottawa many, many times, I just can't imagine what the families of people are going through."
NDP Leader Tom Mulcair said the party is "deeply saddened" by the accident.
"Our heartfelt thoughts and prayers are with the victims of the terrible accident this morning between a Via rail train and an OC Transpo commuter bus in Ottawa," he said in a statement.
"Let us acknowledge the hard work under difficult and emotional circumstances of the emergency personnel involved."