The federal government is not only on track to balance the budget by 2014-15, it will also end seven years of deficits to emerge with a surplus by the time Canadians head to the polls in 2015, said Finance Minister Jim Flaherty, who was in Edmonton delivering the fall economic and fiscal update.
The government is projecting a deficit of $5.5 billion for 2014-15, with a projected surplus of $3.7 billion in 2015-16.
By comparison, Flaherty predicted in his March budget that there would be a deficit of $6.6 billion for 2014-15 and a budgetary surplus of $800 million in 2015-16.
"We promised we would bring the budget back into balance, and that we would do it without raising taxes or reducing funding for health care or other important social programs," Flaherty said in a video presentation to a crowd gathered at the Edmonton Chamber of Commerce on Tuesday.
The projected savings come from recent measures announced by the federal government such as freezing the employment insurance premium rate and reintroducing an operating freeze on departmental spending, which the government announced in the throne speech.
The freeze will apply for two years beginning in March 2014. The operating budget freeze is expected to generate savings of approximately $500 million in 2014-15 and $1.1 billion in 2015-16.
The federal government also updated its fiscal framework to account for revenues resulting from the sale of government assets.
The government divested its interests in 30 million common shares in General Motors. In addition, the government is expected to sell its assets in Ridley Terminals, a bulk coal terminal in B.C. It is also considering selling the Dominion Coal Blocks, two parcels of Crown land in B.C.
The potential gain from the sale of these assets is projected at $500 million in 2014-15 and $1.5 billion in 2015-16. The government deems these amounts to be "conservative" estimates.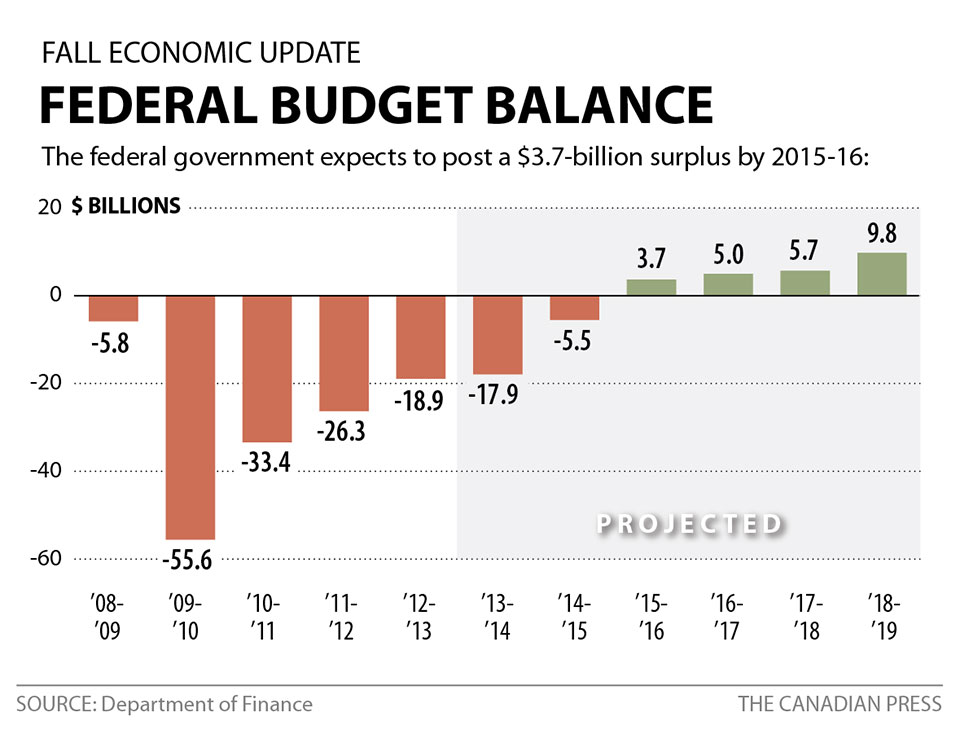 Flaherty to run in 2015
Flaherty's economic update sets the stage for the Conservatives to deliver on promises they made during the last federal campaign, such as income splitting for couples with children under 18, an adult fitness tax credit, doubling the current children's fitness tax credit, and doubling the amount Canadians can save in their tax-free savings accounts.
The federal finance minister was asked if he planned to run again in the next federal election.
'Nothing has changed. I have work to do. I gotta balance the budget, I said I would.'

— Jim Flaherty, federal finance minister
"Yes. Nothing has changed. I have work to do. I gotta balance the budget, I said I would," Flaherty told reporters following his presentation to the Edmonton Chamber of Commerce.
Flaherty had revealed in January he was being treated for a skin condition.
NDP finance critic Peggy Nash called the economic update "an exercise in politics and public relations" rather than economic policy.
She said New Democrats would prefer to take "concrete action" to boost Canada's economic performance, pointing to a youth hiring tax credit or taking action against high credit card fees.
The NDP would also work with the provinces to strengthen the Canada Pension Plan, Nash said.
The government is now projecting a deficit of $17.9 billion in 2013-14, down from the $18.9 billion deficit recorded earlier.
This projection takes into account $2.9 billion for disaster relief announced after the flooding in Alberta, in addition to the $60 million already committed following the train derailment in Lac-Mégantic, Que.
The new projection also includes a $3 billion risk buffer which means the government could find itself in a higher surplus by the next federal election.
In an interview Tuesday on CBC News Network's Lang & O'Leary Exchange, Flaherty said that getting Canada's resources to market would strengthen the economy.
One of the factors impacting the government's bottom line is the continued discount markets put on western crude, which Flaherty attributed to lack of pipeline capacity.
"We'd like to see the Keystone XL pipeline built, so would a majority of Americans. I hope that comes to pass because that would very much help us with commodities exports," Flaherty said.
Ottawa estimates the lower price for Canadian oil has cost exporters about $7.6 billion on average since 2010.
Flaherty also said his preference is to use the surplus to pay down public debt.
On economic prospects, Flaherty was given new growth estimates by private sector economists two weeks ago and they show the economy advancing by 1.7 per cent this year, 2.4 per cent next year and 2.6 per cent in 2015.
Those represent moderate growth rates, but from Ottawa's point of view the more important numbers are those for nominal GDP, which is directly tied to tax revenues. Those numbers have taken a hit because of lower-than-expected inflation. Next year's nominal growth is now projected at 4.2 per cent, down half a point from March's estimate, which Ottawa says will slow revenues.
The finance minister was in Edmonton with James Rajotte, Conservative MP for Edmonton-Leduc and chair of the House of Commons finance committee.
Rajotte thanked the chamber of commerce for hosting the event and proceeded to introduce a video of the finance minister delivering the fall economic update.
The finance minister answered pre-scripted questions put to him by Rajotte before speaking to reporters following the public event.
With files from The Canadian Press