A group of protesters who lined the streets outside the Bowmanville Zoo Monday morning are demanding the owner step down amid allegations of animal cruelty.
Michael Hackenberger, the zoo's owner, can be seen using a whip to control a tiger during a training session in a video that surfaced online last week.
On Monday, about a dozen protesters gathered with signs and megaphones outside the zoo, including protest organizer Dallas Tennisco.
"We'd like Michael (Hackenberger) to talk to at least somebody from here, all of us. Perhaps apologize, step down," said Tennisco outside the Bowmanville Zoo.
The U.S.-based animal rights group People for the Ethical Treatment of Animals (PETA) had asked the Ontario SPCA to investigate Hackenberger after a volunteer at the zoo recorded the footage.
PETA alleges he whipped the tiger 19 times.
In a response video posted online, Hackenberger acknowledged that the footage of him lashing the animal appears incriminating but disputes PETA's conclusions.
He said he whipped the tiger only twice and that the subsequent lashes were to the ground — not the tiger's body.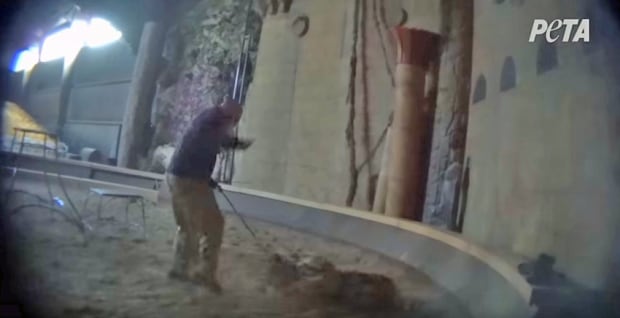 Hackenberger also says the clips don't tell the whole story, adding that volunteer recorded 90 minutes of footage and selectively spliced together only three minutes in which he was disciplining the tiger.
The OSPCA says it will interview everyone involved in the situation and will continue to monitor the care of the animals involved in the investigation.
The OSPCA confirmed last week that it did not remove the tiger from the zoo.
Tennisco says she would like to see the zoo close and its animals relocated to a better facility.
"I'd rather see the animals in a better home such as an animal sanctuary," Tennisco said.