Sparks could fly in Marois-Legault debate
Former Parti Québécois allies had a moment of treachery in 2001
The Canadian Press
Posted: Aug 22, 2012 11:01 AM ET
Last Updated: Aug 22, 2012 1:19 PM ET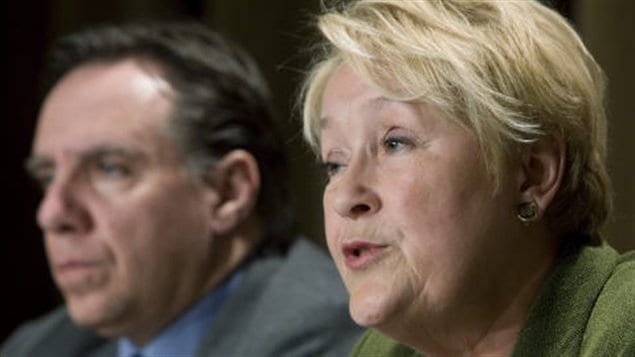 CAQ Leader François Legault's debate tonight with Parti Québécois Leader Pauline Marois, right, will have extra spice because of their past. (Radio-Canada)
The last of the head-to-head TV debates in the Quebec election campaign will be held tonight and will feature an intriguing showdown between two former Parti Québécois cabinet colleagues.
PQ Leader Pauline Marois and François Legault, head of the Coalition Avenir Québec, will complete the trifecta of one-on-one debates that followed the four-way, multi-leader confrontation on the weekend.
The Marois-Legault encounter will have some extra spice because of their past.
Marois was expected to make a run for the PQ leadership in 2001, but backed away after being abandoned by none other than Legault, who threw his support behind winner-by-acclamation Bernard Landry.
One of the more interesting aspects of the Marois-Legault debate will be the exchange they have on sovereignty referendums.
Marois is constantly vague on the timing of the next one, while Legault says he will not hold a referendum for 10 years and that he would even vote no if one were held right now.
In his news conference after Tuesday night's one-on-one debate with Legault, Charest seized on the CAQ leader's 10-year moratorium on referendums and wondered how that strategy would work with Ottawa.
"What kind of agreement does he negotiate? With an expiry date on it that says this agreement is only good for 10 years. After that, we cut you off.
"It doesn't make sense. It's like the old expression, 'If it looks like a duck, if it walks like a duck, it's a duck.' "
Charest portrayed himself as a staunch defender of Quebec vis-à-vis Ottawa while at the same time trying to paint Legault as a man who has not renounced his sovereigntist convictions.
Legault looked nervous in his first leaders' debate, the four-party contest Sunday night. But by Wednesday night, he will be practised and more polished for his final big moment in the TV spotlight.
The CAQ has tried to cast itself as removed from what it depicts as the corruption-riven Liberals and the union-beholden PQ. But that didn't stop Charest from lacing into Legault on Tuesday night over a Radio-Canada report about anonymous donations to star CAQ candidate Jacques Duchesneau's 1998 campaign for the Montreal mayoralty, and Marois may do the same.
Quebecers go to the polls on Sept. 4.
With files from CBC News
Share Tools
Quebec Election Results
Updated: Sep. 5, 2012, 1:58 AM EDT
Overall Election Results
Party
Elected
Leading
Total
PQ
54
0
54

31.93
LIB
50
0
50

31.20
CAQ
19
0
19

27.05
QS
2
0
2

6.03
ON
0
0
0

1.90
GRN
0
0
0

1.00
All results are unofficial until final ballot counts are verified by Elections Quebec. CBC is not responsible for the content of external sites.
Latest Quebec Votes 2012 Headlines