Olive Crane is getting ready for her first session in the P.E.I. legislature as an independent Progressive Conservative MLA.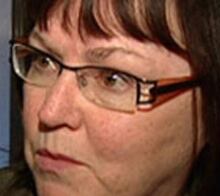 The former leader of the Progressive Conservatives was ousted from the provincial caucus earlier this month. As an MLA, she has been provided with an office, in the basement of the Coles Building.
"As an independent I actually have an office which means a computer and a desk and a telephone. But other than that, I am really on my own," said Crane.
While she has no paid staff as the parties do, Crane said she has a core volunteer staff of about six people. She said she is getting offers of help from people across the province.
"I've got lots of people volunteering to help me, from setting up the office to helping me, across the province, to make sure that in my role as opposition to government I am well prepared," she said.
"I have people that are volunteering as researchers. I also have people that are actually volunteering to come in and sit in the office and take messages."
Crane said she even has some older volunteers helping out with writing birthday and anniversary congratulations for constituents.
Crane will be keeping district office hours at the library in Morell and will also meet with people in their homes.
The Morell-Mermaid MLA said she is working with the speaker on being allowed to ask some questions in the house, and she said she will be well prepared.