'We need to be prepared': Province set to launch naloxone plan
Naloxone action plan for P.E.I. scheduled to be released in early September.
Plan will include tracking the number of opioid overdoses and deaths in P.E.I.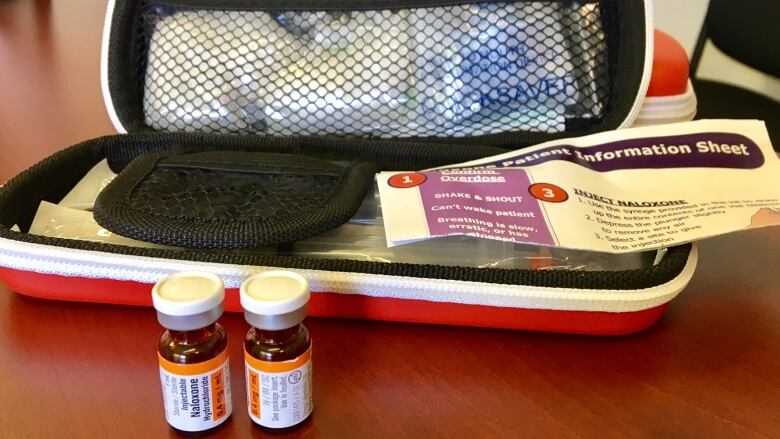 The province is putting together a plan to try to prevent Islanders from dying from drug overdoses.
Health officials will soon start tracking how many Islanders are overdosing, so they can get them the treatment they need.
"Opioid situation touches not only individuals, but affects families and there's a huge ripple effect," said Chief Public Health Officer Dr. Heather Morrison.
'Keep Islanders safe'
"It's a long term work ahead of us, but I think right now this action plan is really trying to respond to what was going on in the rest of the country, so that we could look at what we could do here in P.E.I. to keep islanders safe and to prevent opioid overdoses and deaths."
P.E.I. hasn't seen the crisis of drug overdoses like British Columbia and Ontario.
But Islanders are overdosing on opioids, and public health officials want to do what they can to prevent a crisis here, watching for any drastic spike.
"The surveillance, which is really keeping track in a better way of our opioid overdoses and deaths, so we've been working with coroners, with our emergency departments to try to collect that information," said Morrison.
'Trying to keep track'
And, the province plans to take a closer look at prescriptions for opioids.
"Trying to keep track it the best way we can of our overdoses and deaths, harm reduction which includes the distribution of naloxone as part of that," Morrison said. 
"I think communications and education will be important, collaboration of opioid supply and that would be involving the area of prescription monitoring in particular, and then emergency really response."
That emergency response has been naloxone.
'Need to be prepared'
Naloxone is used to reverse the effects of an overdose, and health officials want to make sure those who need it, get it.
All medical first responders on P.E.I. are going to be equipped with naloxone kits. 
Eighy-four kits have been sent home with Islanders using the needle exchange program since June, and they'll soon be available in jails and addiction programs. 
"I think we need to be prepared, so we need to make sure we are doing good surveillance, we have naloxone out to those people who may benefit from the naloxone take home kits, and continue to work with the various groups to work on opioid supply, and make sure there's collaboration on that supply and that we continue to work on harm reduction right across the board, and issues on pain control and pain management," Morrison said. 
'Preventing overdoses and deaths'
Health officials plan to continue their efforts to help Islanders recognize when someone has a drug problem and need to get treatment.
"The opioid action plan is really focused on preventing overdoses and deaths," said Morrison. "It's not intended to address everything. It will recognize that there are broader issues, but it is to really respond to make sure that we are ready to deal with an increase in anything here, and try to prevent it from happening."