As Canada finally gets set to sign its trade deal with the European Union, dairy farmers and producers in eastern Ontario are seeing both the pros and the cons of the long-awaited agreement.
Ottawa dairy farmer Peter Ruiter watched with concern as the Comprehensive Economic and Trade Agreement (CETA) talks dragged on over the past seven years, only to stall when the Wallonia region of Belgium refused to sign over concerns the proposed accord would undermine labour, environmental and consumer standards.
But on Thursday it appeared the agreement would move ahead.
"The feeling amongst myself and other dairy farmers is we're going to lose some of our market. Nobody likes to lose market. It's not a great day, but as our economy as a whole, we are a trading nation so we'll have to sign it," said Ruiter.
He said Canada's dairy industry carefully manages its production so the supply of milk never exceeds what the market requires.
Ruiter notes Canadian farmers don't get subsidies, in contrast to farmers in Europe.
Future unclear for compensation deal
Canada's dairy industry, fearing losses once the market opens wider to European cheese imports, previously held talks with the federal government about a compensation and mitigation deal.
"We're not sure how that compensation is being worked out right now," said Ruiter.
But Margaret Peters-Morris, president of Glengarry Fine Cheese in Lancaster, Ont., doesn't share Ruiter's concerns. In fact she said she's pleased to see the deal progress.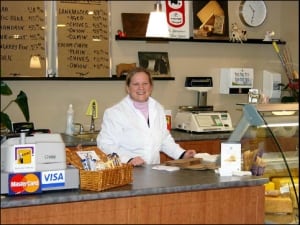 Glengarry Fine Cheese products have already won awards in Europe, and Peters-Morris said she's interested in selling into a more open European market.
She said Canadian producers shouldn't be afraid of the competition.
"Canada also has a lot to offer. In the last eight to 10 years we've already proven that to the consumers here and they're not going to switch very readily," said Peters-Morris.
"The European product, as long as the euro stays where it is, it's going to still be quite expensive."
The deal is expected to be signed over the weekend. Once that's done, CETA may be provisionally applied early in 2017.
"As an industry, we did lose. So I hope every other industry that wins, i.e. the pork industry or the beef industry goes out and fills those markets. If they don't, then Canada as a whole, on agriculture, we lose," said Ruiter.