An industry advocacy group that represents thousands of technology companies has launched a campaign calling for government action over a recent court decision that questions the patent rights of some Canadian military veterans.
The Canadian Advanced Technology Alliance (CATA) doesn't think much of the February ruling by the Federal Court of Appeal that determined anyone whose name is on the Canadian Armed Forces supplementary reserve list is considered a public servant, even if they receive no pay or benefits.
'It's a total contradiction … It's not a very good message to send to them.'

- John Reid, president of CATA
That means veterans and reservists working full time in the private sector must first seek permission from the federal government before applying for a patent for their inventions.
John Reid, president of CATA, calls the decision a throwback to the 1950s, when the Public Servants Invention Act was first put in place. Reid said it goes against the federal government's current push for an innovation agenda.
Veterans 'in a catch-22'
"You catch our veterans in a catch-22, plus the companies that hired them, because now there's a business risk in terms of ownership of patents," said Reid. "So it's a total contradiction … particularly dealing with veterans on a reserve list, it's not a very good message to send to them."
Reid said CATA has heard from veterans and industry leaders over the patent issue. Many defence manufacturers hire engineers and technologists who've acquired their skills while serving in the military.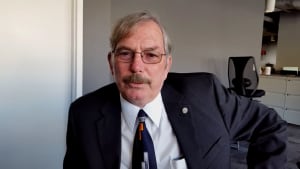 With the recent ruling, companies must disclose their invention to the appropriate ministry and wait for the government's decision to either claim ownership or give approval for the applicant to proceed on his or her own.
Reid said that will slow the intellectual property process.
"Speed to market is important and government has never been known for its speed to market. You're putting two cultures together and that just won't work," said Reid.
CATA campaign
CATA has launched a campaign for action and a survey, seeking feedback from members, but Reid believes the problem should be easy to fix.
"I'd be very surprised if we can't get somebody to look at this and fix it. It seems fixable to me," said Reid who added he's already been in touch with the federal minister in charge of innovation, Navdeep Bains.
Louis Brown, a military veteran and president of NOR Environmental in North Bay, Ont., is at the centre of this case.
Brown retired from the Forces in 1993 and went on to start his own company developing specialized shelters and filtration systems used in the event of a chemical or biological attack. In 1999, Brown patented his shelter technology in both Canada and the U.S.
When he retired, Brown agreed to go on the supplementary reserve list. He was not paid, nor called into service, but his name remained on the list until 2009.
Patent infringement claim
In the meantime, Brown said he introduced his technology to officials in the Public Works department. But in 2009, the federal government contracted a U.S. firm to supply a product similar to Brown's shelters. Claiming patent infringement, Brown took the government to court in 2012.
The government moved to dismiss the case using the Public Service Invention Act, stating it already owned the patent because, technically, Brown was still a public servant when he filed for his patent in 1999.
Brown's company is now in limbo until the questions over his patent are resolved in Federal Court, so in the meantime he wants to warn other veterans who are on the supplementary reserve list.
Earlier this month the Department of National Defence said in a statement to CBC that right now it is assessing the recent court ruling, and will work with the Justice Department to determine its next steps.