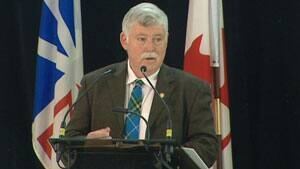 Nova Scotia's energy minister says a federal loan guarantee for a massive hydroelectric project in Labrador will ultimately mean cleaner and cheaper power for Nova Scotians.
Charlie Parker was in St. John's on Friday to sign a memorandum of understanding with the federal government and Newfoundland and Labrador.
"This is a massive project that will change both the economic and energy landscapes of Nova Scotia," Parker said in a statement.
The federal loan guarantee is a key development in a megaproject that is expected to provide up to 10 per cent of Nova Scotia's electricity needs for three decades.
Nova Scotia Power is investing $1.2 billion to build underwater cables to bring power to the province and the rest of the Maritimes. Another $600 million is coming through Emera, Nova Scotia Power's parent company.
Parker said construction on the transmission link could start next year.
The province expects lower and more stable rates for 35 years once power begins to flow from Muskrat Falls in 2017.
"The loan guarantee reduces the cost of the project. Any savings will flow back to electricity customers in the two provinces, helping to keep their rates down," Parker said.
About one-quarter of Nova Scotia's energy is supposed to come from renewable sources by 2015. The plan is to increase that to 40 per cent by 2020.
The project is expected to create jobs in the province, mainly to build the transmission link to Lingan in Cape Breton.
The loan guarantee doesn't include a dollar figure.
The hydroelectric project was first expected to cost $6.2 billion.
A spokeswoman for the province said the loan guarantee is not for the full amount of the project of $6.2 billion, but for the full amount of the debt of the project, including any debt associated with the Maritime Link portion of the project.
"The final-debt equity ratios are being worked out by the parties and until that is finalized, the full amount of the debt and therefore the loan guarantee is not known," said Tracy Barron.
A final agreement is expected to be signed on Nov. 30.
Barron said the loan guarantee will lower the interest costs associated with the project and therefore will result in "significant savings to N.L. and N.S. ratepayers over the life of the project."
The Ecology Action Centre in Halifax said in a news release it's skeptical that the new coal regulations and plan to export Muskrat Falls hydro to Nova Scotia would be cost-effective enough and have the ability to achieve fossil-free power by 2030.