The recent hot, dry weather in the province has fire officials warning Nova Scotians to be very careful as the latest fire index shows most of the province is at a high risk for forest fires.
The province's forest fire index, updated Tuesday afternoon, shows six counties at extreme levels for risk of fire with the rest of the province at a high risk.
Part of Hants County is one of the six regions in the province where the fire index is registering extreme.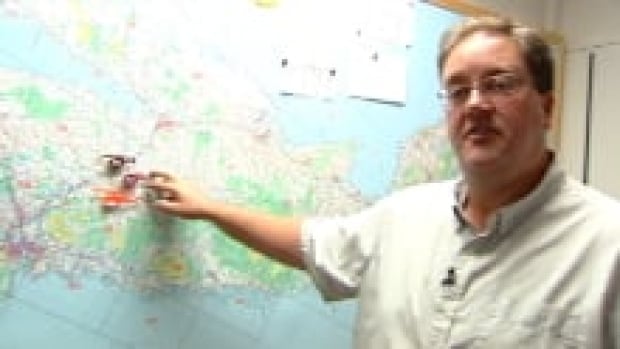 Jim Rudderham, the province's supervisor of wildfire management, said although fields remain green, the trees and the land they are rooted in, are dry. The latest weather forecast from CBC meteorologist Kalin Mitchell says there won't be rain any time soon.
"We aren't expecting any rain for the next week, so this [risk] is going to continue to rise and could be quite high, all over, or extreme," Rudderham said.
Rudderham said he anticipates three or four more areas of the province could hit the extreme level on Wednesday.
The Department of Natural Resources has five helicopters on standby and have spread them throughout the province.
"Right now, at our base in Shubenacadie, we have three machines stationed," Rudderham said.
"Today we have this machine stationed in McGowan Lake to cover the western region and we have a machine based in Margaree to cover the eastern region. These machines can get to a fire in any part of the province in about half an hour."
Six weeks ago the helicopters were pressed into service when a forest fire broke out on the outskirts of Halifax. The aircraft were credited with keeping the fire under control until rain came to put an end to the blaze.
Now with a lengthy dry spell ahead, measures are being taken to limit the risk of another forest fire.
In Halifax an open air burning ban was issued on Tuesday. All burning permits have been cancelled and fires will only be permitted in an approved outdoor burning appliance.
Dave Meldrum, the Halifax Regional Fire and Emergency Service's divisional chief of safety, is warning people who are planning to go into the woods to be very careful.
"Careless use of smoking materials is a big deal, cigars and cigarettes that kind of stuff. It's absolutely dangerous to just flick those discarded butts into the undergrowth, the brush, the grass and stuff like that," Meldrum said.
Fallen trees that have been taken down by hurricanes and other powerful storms over the last few years, which are now extremely dry, also increase the risk of fire.