Pet a dead shark and climb aboard an icebreaker at BIO's open house
Aspiring ocean scientists and members of the public will get a rare opportunity to tour Canada's largest ocean science research centre this weekend in Dartmouth, N.S.
Dartmouth, N.S., ocean science research centre will open its doors to the general public this weekend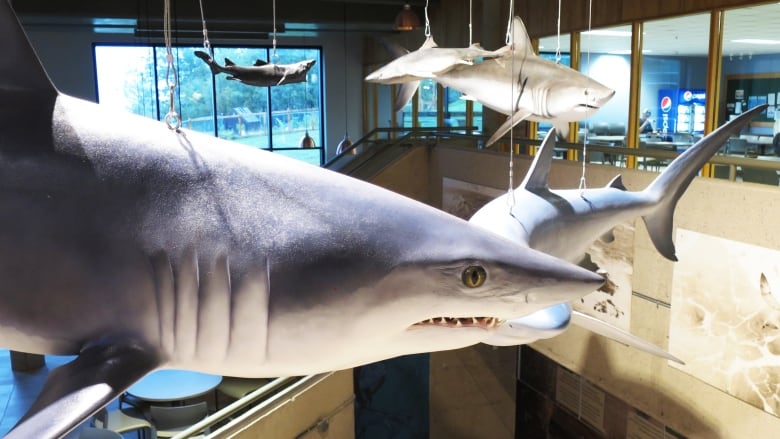 Aspiring ocean scientists and members of the public will get a rare opportunity to tour Canada's largest ocean science research centre this weekend. 
The Bedford Institute of Oceanography only opens its doors to the public once every five years, a tradition that began shortly after the Dartmouth, N.S., facility was established in 1962.
Over the next few days, thousands of people will pass through BIO's gates and get a behind-the-scenes look at the cutting edge of ocean science and technology in Canada.
"We're hoping to break the 10,000 mark this time," said Claudia Currie, a marine geoscience technologist with Natural Resources Canada who co-chairs BIO Expo 2017.
BIO is unlike any other facility of its kind in Canada and encompasses the work of several departments and agencies, including:
Department of Fisheries and Oceans
Natural Resources Canada
Department of National Defence
Environment and Climate Change Canada
Canadian Food Inspection Agency 
Canadian Coast Guard
Geological Survey of Canada
Canadian Hydrographic Service
Sneak peek of some of the 72 exhibits
Visitors will have the opportunity to get a close-up look at some of the weird, wonderful — and sometimes scary — creatures that inhabit our waters. 
Touch tanks full of some common bottom-dwelling marine creatures will be open. Also, visitors will get a chance to touch sandpaper-like shark skin. 
"As soon as you come in you'll be able to touch a shark — they'll be dead, they'll be frozen but they'll be here right at the entry when you come in," said Currie.
"There's lots and lots of science and technology to come and see — and it's all free." 
Visitors to BIO will also have the chance to walk around CCGS Earl Grey, a light icebreaker that's currently pulling double duty as a search and rescue ship vessel and navigational buoy tender.
The Baby Louis will be on display. It's an autonomous piece of equipment that was used to map the continental shelf in the Canadian Arctic. It's important work because it helps define Canada's true border under the water off the coast. 
"Those outer limits, once they receive international recognition, could add about 1.2 million square kilometres of extra submerged land to be part of Canada," said Mary-Lynn Dickson, director of the Arctic underwater mapping project. 
If accepted by international bodies, the work by Dickson's team means Canada would increase its land mass by the equivalent of about 10 Prince Edward Islands.  
"So it's an important project," she said. "Once we receive international recognition for these outer limits, Canada will have sovereign rights over the natural resources — living and non-living — on the sea floor and below, in the subsoil." 
The public will also get a chance to see how a collaboration between Nova Scotia Community College and the Department of Fisheries and Oceans is using three-dimensional sea-floor mapping to create more sustainable fisheries.
It's a piece of technology scallop fishermen are already taking advantage of, said Jessico Sameoto, an aquatic science biologist with DFO.
"They're not putting their gear down on places where there's not scallops, so they're not impacting habitats and communities in that regard," she said. "They are able to catch their quotas with much less effort, which makes it more sustainable."
School students will be visiting BIO on Thursday and Friday. Saturday and Sunday, from 9 a.m. to 3 p.m., is when the general public can head down.
For more information visit BIO's website.
With files from Zak Markan