Framed photographs of those who perished in the Cougar 491 crash lined a St. John's church Wednesday evening as friends and family gathered to pay their respects, five years after the helicopter tragedy cast a pall over the offshore oil industry.
Seventeen people — all but one of the people aboard the Cougar Helicopter — died when the chopper suffered a dramatic loss of oil pressure and minutes later crashed into the Atlantic Ocean.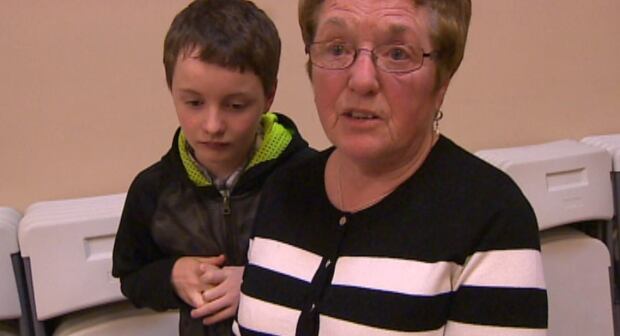 Hundreds of people attended the fifth annual remembrance ceremony at Bethesda Pentecostal church.
Maureen Morris, whose son Greg was among those who died in the crash, said the service is no less important as the years pass.
"It's important for the families, but I think it's important for all the people that work offshore to be aware of what can happen," said Morris, who attended the ceremony with her grandson, who was just four when his father died.
"In the blink of an eye, 17 people gone — just like that."
Never forget, brother-in-law says
George Bradbury attended the service to remember his brother-in-law, Peter Breen.
"These were good men, family men, working offshore in tough places sometimes," he told CBC News.
"I think it is important that we do remember them, and not let any part of their lives and the past be forgotten," said Bradbury.
A monument dedicated to the Cougar 491 flight, as well as the six people who perished in a Universal Helicopters crash in March 1985, is expected to be unveiled near Quidi Vidi Lake this summer. The design was released last fall.