A block of Saint John condominiums went up for sheriff's sale on Thursday, but failed to attract any interest.
The 21 units are part of a complex on Winter Street that had slipped into foreclosure.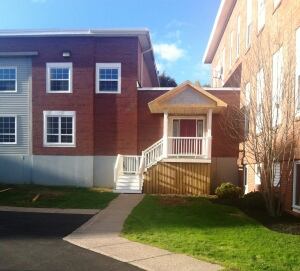 Marketed as "Condos on Winter,", the former school had been converted into apartments and was in the process of being converted a second time into condominiums. Sixteen of the 24 units have yet to be converted from apartments into condos.
The units were listed at $130,000. Only three had sold by the time creditors moved in.
Nobody showed up Thursday for the auction and its $1.3 million minimum, a reflection of a depressed local real estate market. With no bids on the property, the holder of the first mortgage has become its owner.
John Rocca is the developer of another condo project on the city's waterfront. He says empty-nesters are having a hard time to make the move into condominiums.
"They usually have a home to sell before they can buy your condominium," said Rocca. "It takes longer to make the sale if the market is a soft market."
Young professionals are typically the other group of buyers for condominiums. Rocca says it requires an active job market to attract them, and he's confident that will develop if the West to East pipeline project is approved.