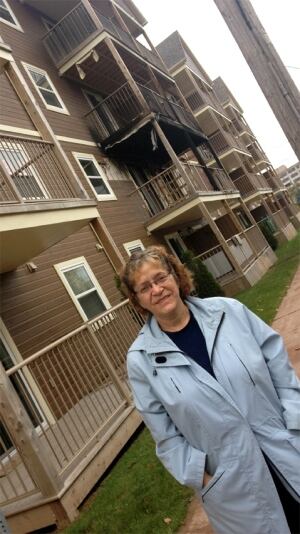 Residents of a downtown Moncton apartment building are slowly being allowed to return to their homes after a weekend fire.
Fire crews were called to the 56-unit building on Robinson Street shortly before 8 a.m. on Sunday.
No one was injured, but the fire forced 75 people out of their homes, including Lucie Belliveau, who lives in a second-storey unit, beside the one where officials believe the fire started.
She says the experience was like a nightmare for everyone in the building.
"Me, I was crying for a while because I was afraid I was going to lose my stuff," said Belliveau.
"I know your life is more important, but a situation like that it makes you think, you know. Insurance is very important," she said.
"I was afraid, but a lot of people, you can tell, were frightened and they were wondering where's the other one and making sure all were safe."
Belliveau, who returned to her apartment on Monday, says she feels extremely lucky nothing in her home was damaged by fire, smoke or water.
"Everything is OK and I think I must have had a guardian angel," she said. "Every time I think about it I feel a chill."
"There was an angel up there guarding over me because the fire was [in the apartment] right beside me, and if it would have hit their bedroom, I would have had it, because my bedroom was right next to them."
Marc Belliveau, with the Canadian Red Cross, says four to six more residents should be able to get back into the building on Monday. About 60 of the residents were back in their apartments by Sunday night.
The remaining 12 residents will be able to return in the next several weeks, depending on smoke and water damage, he said.
Flames were mostly confined to the balcony of one apartment on the second floor, though there was some water damage to that unit and a few adjacent apartments, fire officials have said.
The Red Cross is also offering support to several residents of a 10-unit rooming house on High Street after a fire broke out there on Monday morning, said Marc Belliveau.
Fire officials are still trying to determine the cause of both fires.