With a growing number of deer surviving recent New Brunswick winters, the province is on track to have its best deer season since 2014 — at least in terms of the number harvested.
The Department of Energy and Resource Development says 3,325 deer were killed during bow season and the first two weeks of regular hunting as of Nov. 5. That's a 23 per cent increase over the same time last year.
The season ends Nov. 18.
Joe Kennedy, the provincial deer biologist, said much of the increase can be attributed to the growth of the overall herd.
"The deer population across the province is rebounding," said Kennedy.
"We're seeing increases in harvest clear across the province, as well as we're seeing increases in road kill and anecdotal viewing of deer."
Kennedy said recent, relatively warmer winters are the reason for the increase in the overall deer population, after harsh winters in 2013 and 2014.
"That really has encouraged the growth of the deer population," Kennedy said.
"We're seeing a lot more younger animals survive through the last couple winters."
Good numbers, low weight
While numbers for the hunt may be up, there's some evidence the weight of the deer being being shot is lower than usual.
Evan Brewer, the owner of B & E Meat Cutting in Keswick Ridge, said he's received between 30 and 40 deer to butcher so far this season.
"They've been coming pretty steady," Brewer said. "Every day I'd get one or two.
"Last weekend I got six in one day."
Brewer said the largest deer he's butchered produced 180 pounds of meat, but most of the deer he's seen have been much smaller.
"The way I charge my prices, anything under 100 pounds I just charge $80," he said,.
"There's only three deer that didn't fit into that category."
An average deer would yield between 160 and 180 pounds of meat, he said.
Deer hunt numbers 2013-17

| Year | Bow Hunt | Week 1 | Week 2 | Week 3 | Week 4 | Total |
| --- | --- | --- | --- | --- | --- | --- |
| 2013 | 183 | 2,197 | 1,723 | 1,989 | 2,069 | 8,161 |
| 2014 | 178 | 1,749 | 1,559 | 1,677 | 1,619 | 6,782 |
| 2015 | 198 | 1,393 | 759 | 933 | 1,103 | 4,386 |
| 2016 | 227 | 1,413 | 1,066 | 1,253 | 1,427 | 5,386 |
| 2017 | 326 | 1,662 | 1,337 | Not available | N/A | N/A |
The smallest deer Brewer butchered was only 30 pounds.
"That's not something you go brag about I don't imagine," Brewer said.
While the deer have been smaller, Brewer said it was worse this year when it came to moose weight.
"The average weight on a moose this year and last year is about 100 pounds less," he said.
"I only had one or two that had any amount of fat on them."
Size of herd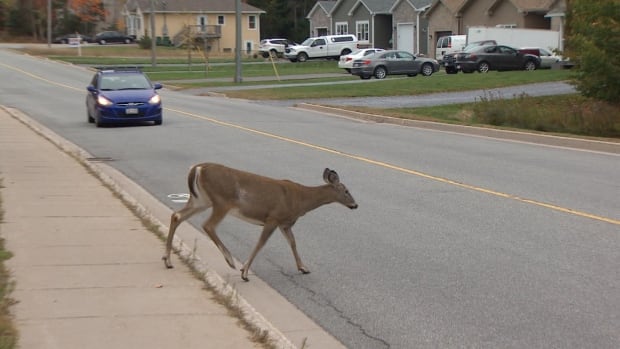 Kennedy said the size of the deer herd pre-hunt was about 73,000, which he called a conservative estimate.
"I believe the population is likely higher," said Kennedy.
"There are more urban deer in the province now than ever before ... from a management point of view that makes it difficult for us to get a better handle on population estimates."
Deer hunt numbers are up even in areas of the province not known for deer hunting, specifically the northeast, which is considered a dead zone for deer hunters.
"We're looking at a total of 18 for the Bathurst-Tracadie area this year compared to seven last year," said Kennedy.
"We're still talking pretty small numbers."
Deer season runs for one more week, with a projected total harvest of 6,300.