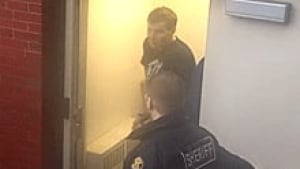 The attempted murder trial of Benjamin Nason started on Monday in Fredericton in connection with a shooting in the Lincoln Heights neighbourhood in January.
The 38-year-old Beaver Dam man is accused of trying to kill a 40-year-old Fredericton woman.
Nason pleaded not guilty on Monday morning in front of Justice Judy Clendening.
A seven-man, five-woman jury has been selected.
The attempted murder trial is expected to take about two weeks.
Nason was arrested on Jan. 29 after a 14-hour standoff at his parents' home in Beaver Dam, which is about 16 kilometres away from the scene of the shooting.
The 40-year-old woman suffered a single gunshot wound to her upper body and was taken to the Dr. Everett Chalmers Hospital for surgery.
Police said in January the victim and suspect knew each other, but were not a couple.