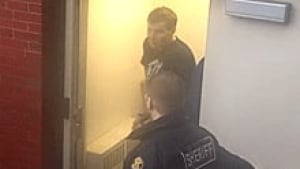 The bail hearing of a man accused of attempted murder in connection with a shooting in Fredericton last week has been set over for two weeks.
Benjamin Nason, 37, appeared in provincial court on Monday, represented by court-appointed duty counsel, but requested an adjournment to allow him time to hire his own lawyer.
Nason has not yet entered a plea.
He will remain in jail until his new bail hearing on Feb. 18.
Nason was arrested on Jan. 29, following a day-long standoff at a home in Beaver Dam.
Earlier that day, police had responded to a shooting in the Lincoln Heights area, about 20 minutes away.
A 40-year-old woman was taken to the Dr. Everett Chalmers Hospital, suffering from a single gunshot wound to the upper body.
The woman underwent surgery and is recovering.
The victim and suspect knew each other, but were not a couple, police have said.
Nason surrendered without incident after having barricaded himself inside a home for 14 hours.
Police executed several search warrants in the case and the investigation is ongoing, police have said.