At the peak of the 1998 ice storm, roughly half of Quebec's population had no power — some for weeks.
It was the biggest and costliest natural disaster in Canadian history.
And yet Quebecers recall funny and heartwarming moments, as well.
Here are some of those stories.
---
Sitting around the portable heater
Jan. 4, 1998: The phone at the Comfort Inn in Saint-Jean-sur-Richelieu was ringing off the hook.
As Geneviève Béliveau recalls it, the hotel was the last place in town to lose power during the ice storm that ultimately left more than half the province's population without electricity.
Two days into the storm, the Comfort Inn lost power as well.
Béliveau, who worked in reception, recalled staffing the front desk in the pitch black, taking calls from people who were desperate to get into one of the fully booked hotel's 98 rooms.
"It was very, very dark," she said. "The whole front was a bay of windows, so you could see the highway, and you looked towards Montreal, and there was nothing. I've never seen such a beautiful sky."
Hydro-Québec transmission pylons were knocked down like dominos as the metal structures crumpled under the weight of the ice hanging from power lines and the force of the wind.
It was five days before the hotel was back up and running — it took that long just to find enough generator power to feed the building.
With no power at home, Béliveau holed up with her cat in one of the rooms the hotel had earmarked for its employees.
"I was camping inside a hotel with strangers," she said. "We had a little heating element, and in the evening, we would just sit around it like it was a campfire and talk."
Love blooms in the cold
For many, the ice storm was a nightmare, but for others, that time holds sweeter memories.
"Twenty years ago, what we now call 'the ice storm crisis' began — and that changed my life forever," wrote Marie Annik Grégoire in a Facebook post.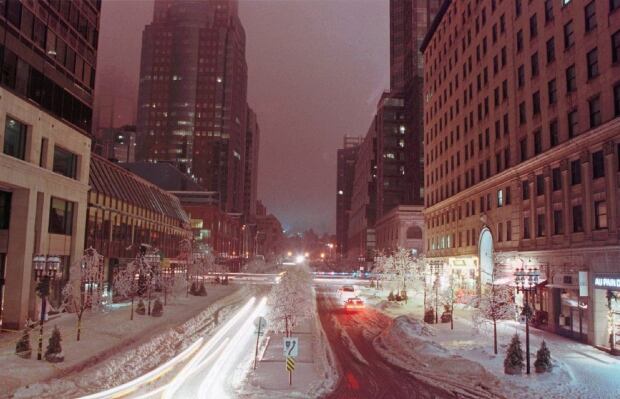 The Montrealer told CBC that she hosted a friend of a friend during the storm "as an act of solidarity," because her home still had power.
As Grégoire tells it, he stayed with her for a few days, and then he never left.
"I hosted the one who would become my husband," she said.
"One marriage, two children and three cats later, I'm very happy that Hydro-Québec never got my love's place reconnected."
Anything for a cup of coffee
In Mont-Tremblant, 170 kilometres northwest of Montreal, meanwhile, Karen Sampson was working as a ski patroller for the 1998 World Cup Freestyle Ski Championships.
The event wasn't cancelled, even when Hydro-Québec shut down the hill's chairlifts in an effort to conserve electricity.
"It was a World Cup event, so I guess the show had to go on," said Sampson. "We made it work."
During one of the rolling blackouts affecting the ski resort, Sampson recalls going to great lengths, along with her fellow patrollers, to brew a cup of hot coffee when all they had were whole beans.
"We put all the coffee beans in Ziploc bags, and we were jumping up and down with our ski boots, trying to crush up the coffee," she remembered.
Mont-Tremblant dodged most of the freezing rain and ice pellets, getting instead a blanket of fresh snow.
"It was beautiful out. You wouldn't think you were in the middle of a natural disaster."
Hydro working around the clock
Mario Montambault has worked for Hydro-Quebec for 34 years and remembers vividly the weeks he spent in Montreal working 16-hour shifts, helping to restore power.
"During the ice storm, we spent the whole month in the city, living in a hotel, working around the clock," he said.
Montambault recalled working late into the night in areas that were completely without electricity.
"It looked like a dead city," he told CBC.
Despite the outages, residents gave crews a warm welcome, offering them food and thanks for their efforts.
"It's always nice to get recognition," said Montambault.
---
What's your memory of the ice storm? Share it with CBC by emailing webquebec@cbc.ca or find us on Facebook.
With files from Antoni Nerestant