2015 under investigation: Top stories from the CBC I-Team
From RCMP officers behaving badly to the flood of controversy surrounding the purchase of Tiger Dams, here are some of the investigative unit's most memorable stories of 2015.
Catch up on some of our most memorable investigations of 2015
A new reporter, a new data journalist and a new consumer tips segment, in addition to a full slate of national and local investigative stories: it's been a very busy year for the CBC I-Team.
From RCMP officers behaving badly to the flood of controversy surrounding the purchase of Tiger Dams, here are some of the investigative unit's most memorable stories of 2015.
RCMP discipline
The I-Team began 2015 with a review of RCMP disciplinary cases. What followed was a series of stories detailing abuse of power and questionable behaviour from officers on and off duty.
First, there was the officer who took an intoxicated aboriginal woman home to "pursue a personal relationship" after he arrested her. Then there was the Mountie who got into an ATV accident while speeding after a night of drinking, and the one disciplined for sending snide emails about co-workers.
The RCMP declined to comment, but it was still an eye-opening review of lapses in judgment.
---
Momentum Marketing
It's hard to forget the footage of a Momentum Marketing meeting in which a team leader hurled obscenities at the young staff. The I-Team took a closer look at the company's hiring and labour practices, after nearly a dozen employees came forward alleging unpaid wages, expenses, abuse and intimidation.
Investigation records revealed employees were paid as little as $6.80 an hour, which is far below the legal minimum wage of $10.70 an hour.
As of April, Manitoba Employment Standards collected $12,400 in minimum wage, overtime and general holiday pay for seven former employees.
---
Tylenol No.1 
You don't need a prescription for Tylenol No. 1, even though each tablet contains eight milligrams of codeine. People addicted to narcotics who can no longer get prescriptions for Tylenol 3 or other painkillers often turn to Tylenol 1.
The problem is Tylenol 1 also contains acetaminophen. People taking large doses of T1s to get their codeine fix inadvertently poison themselves.
While there are restrictions on the sale of T1s, as the I-Team found, it's easy to buy thousands of them simply by visiting a few pharmacies in a row.
But starting in February 2016, Manitoba pharmacists will require a prescription for Tylenol 1.
---
Pediatrician faces sex abuse charges
He was a world-renowned researcher and respected pediatrician. For decades, Dr. Victor Chernick was one of the most important names attached to Winnipeg's Children's Hospital.
Two of his four children, however, allege there was a darker side to the specialist. Criminal and civil proceedings against Chernick allege horrific details of sexual abuse.
Chernick refused to speak about the cases with CBC. A criminal trial is scheduled for fall 2016.
---
Who will pay for Angela Poorman's funeral?
By all accounts, Angela Poorman's story was like that of so many other missing and murdered indigenous women in Canada. A troubled victim of domestic violence, Poorman was just getting her life on track when she was stabbed to death in Winnipeg's North End, her family says.
Because Poorman had racked up a number of criminal charges — most for minor offences — Manitoba Justice refused her family's application to victim services to cover her funeral expenses.
After the I-Team's story broke, Manitoba Justice reversed its decision and approved financial assistance to help the family pay for Poorman's funeral.
---
Unfixed recalls
It was shocking news to Manitoba motorists: CarFax ran every car in the province through its database for the I-Team and found that one in six cars had an unfixed recall.
When the I-Team pulled up to a busy parking lot and ran a series of random cars through the database, some motorists learned their cars had serious safety recalls open on their vehicles.
The day after the story aired, Manitoba Consumer Affairs Minister Ron Lemieux learned that he, too, had a recall. The province promised to take action and partner with the auto industry to address the problem.
---
Tiger Dams: Flood of controversy
Dams are supposed to prevent disaster, but in this case they caused quite a bit of trouble for the provincial government.
It centred around the purchase of Tiger Dams for the Interlake Reserves Tribal Council. International Flood Control Corp. of Calgary was about to be awarded a $5-million untendered contract to supply the Tiger Dams when the provincial Treasury Board slammed on the brakes. A whistleblower later accused Steve Ashton, the minister of infrastructure and transportation, of trying to push through the deal without a tender.
The province eventually did put out a tender for the flood tubes but, to this day, it still hasn't made an award.
The province told the I-Team the request for proposals hasn't been cancelled, just delayed. But in March, a tender funded by the federal government awarded International Flood Control a similar $5-million deal. That tender is also under fire. A rival flood dam company said, "It doesn't smell very good."
---
Ford paint
Another car story with a lot of mileage: fed-up Ford Escape owners contacted the I-Team about flaking paint on their rear wheel wells and hatch.
When we dug a little further, we found a paint expert who used to do work for the company who said he sounded the alarm on thin paint problems at the company's plants more than a decade ago. As the story rolled along, we found the paint issue also affected some other Ford vehicles.
Ford still hasn't granted the I-Team's request for an interview, but since the stories aired, more than 100 customers have contacted the I-Team with their Ford paint problems.
---
Paraguay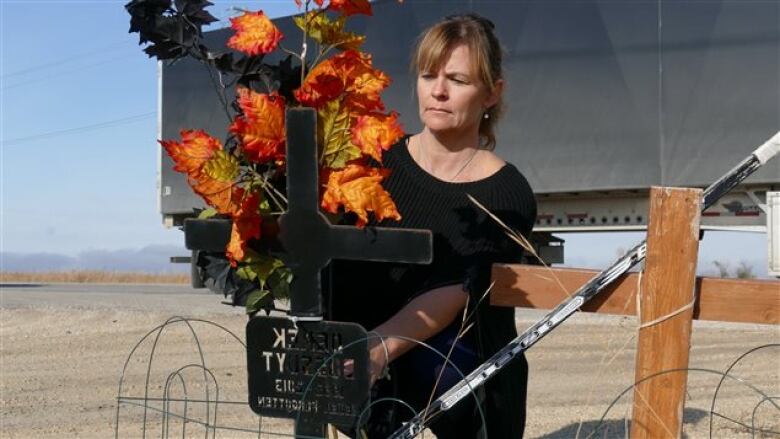 Randolf Enns was behind the wheel when his semi veered into oncoming traffic and plowed into a truck, killing a 21-year-old man. Enns was charged with dangerous driving causing death, but he skipped the country before he had to answer to those charges.
The I-Team tracked him down in Paraguay. However, sources said Enns has dual citizenship and Paraguay isn't in the habit of extraditing its own citizens.
Back in Winnipeg, the family of the crash victim waits for justice.
---
Food deserts
Access to food is considered a human right, but for many in Winnipeg, it simply isn't guaranteed.
Using parameters from food security experts, the I-Team mapped out Winnipeg's food deserts: vast areas where people have little or no access to affordable, healthy foods.
Our interactive maps and stories about life in the city's food deserts got people talking about what counts as a grocery store and about city planning, public transit and poverty issues.
---
Got a tip for the CBC I-Team?  Email iteam@cbc.ca or call the confidential tip line at 204-788-3744.