Veterans Affairs officials have been ordered to review the case of a soldier from Delta, B.C., after he was denied compensation for a neck injury made worse by post-traumatic stress disorder.
Warrant Officer Brian McKenna injured his neck back in 2000, during bayonet training. He received hospital treatment and went on to serve twice in Bosnia and twice in Afghanistan.
McKenna was diagnosed with post-traumatic stress disorder after witnessing an explosion that destroyed an armoured bus, killing 13 people including five of his close friends.
The soldier, along with his army doctor, chiropractor and psychologist, says the resulting tension and nightmares made his neck injury worse.
McKenna is still in the armed forces as a warrant officer and is getting disability, but believes he will be discharged shortly because he is unable to serve, meaning Veterans Affairs will soon take over his case.
But a Veterans Affairs panel disagreed with the previous findings and said he is not entitled to compensation.
"They discount the opinions, not only of the soldiers who witnessed it, who wrote extensive accounts," said McKenna.
"They discount three doctors' statements and they couldn't even figure out which specialist is which."
McKenna says the Veterans Affairs report shows a lack of care. The findings of the chiropractor were rejected because the panellists mixed up the qualifications of two of the experts and mistook him for the psychologist.
"This department is not what Canadians expect. This isn't the standard that Canada ought to deliver."
Veteran protest on Parliament Hill
McKenna is not alone in his frustration with Veterans Affairs.
On Wednesday, war veterans marched on Parliament Hill in Ottawa, angry that recent vets get lump sum payments for injuries, rather than a lifetime pension.
Retired major Mark Campbell, who lost both his legs in Afghanistan, said that means $30,000 less income per year.
"The fact of the matter is you lose your legs, you lose your testicle, you lose all these body parts plus your mental capacity — you come home and you find out that you're going to have to live on less than you went over with," said Campbell.
Meanwhile, McKenna is demanding answers.
"This is my lack of health care for the rest of my life as the result of this injury," said McKenna.
After the CBC contacted Veterans Affairs about his case, the Minister of Veterans Affairs Julian Fantino said he had ordered his staff to contact McKenna immediately.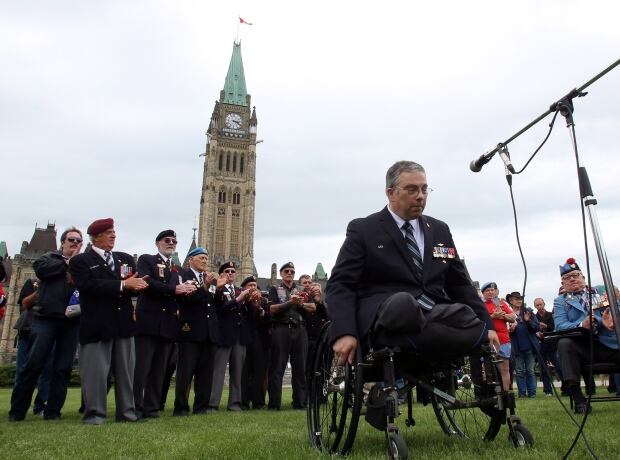 With files from Kirk Williams