Recommendations are rolling in for Canada Reads: True Stories. Thanks to everyone who has submitted a title so far.
Check out these highlights:
Liz in Peterborough, Ontario, recommends: On a Cold Road: Tales of Adventure in Canadian Rock by Dave Bidini
Dave Bidini from the Canadian band Rheostatics writes a great first person account of what it is like to be a Canadian band in Canada, and why our music scene is so great! The book takes us on tour through Canada and introduces us to some of our favorite artists (before they were our favorites).
Jason from Red Deer, Alberta, recommends: Born Again: My Journey from Fundamentalism to Freedom by Tom Harpur
I recommend this book because I'm certain that a lot of people can relate to it on some level. I, for one, have and I believe there are many Canadians and Americans who really do need to hear Harpur's story, especially his critics.
We hear too much in the news and media about religious fundamentalists, and not enough from the spirutual leaders who take a more rational approach to their faith, but who are still just as passionate as the extremists who make the headlines almost daily. I'm sure I could say plenty more, but I'll stop here.
Barbara from Caledon East, Ontario, recommends: Hidden Beneath the Thorns: Growing up Under Nazi Rule by Gabriele M. Quinn
This book speaks to the heart. I was so touched, and moved by the events of this time era. World War II, during the Nazi rule, was a horrific time and the memoir of the author's mother was so well written by Gabriele M. Quinn.
My mother also went through this time era at the exact same age. All I thought about was what my mother must have gone through, as well. I cried so many times while reading this book. I gave it to my mother to read and she also cried. Having a memoir written about Gabriel's mother is amazing, and the history of that time will forever be kept in a book, so well described, and written.
Carol from Clarksburg, Ontario, recommends: A New Leaf by Merilyn Simonds
I found this book in my local library. I loved it so much I had the urge to buy a copy of my own. I even had to ration my reading. I really did not want to get to the end. It is a book for gardeners,grandmothers, historians and anyone with a sense of humour and a zest for life.
Michelle from Vancouver recommends: The Golden Spruce by John Vaillant
Winner of the 2005 Governor General's Award for non-fiction, this book is a compelling read, investigating the life and death of a three hundred-year-old golden spruce on Haida Gwaii (Charlotte Islands). The story focuses on Grant Hadwin, the man who cuts down this natural wonder that was sacred to the Haida people and a tourist attraction. The book is multi-layered, reads like a novel, and a page turner.
Tracy from St Francois Xavier, Manitoba, recommends: Fatal Tide by David Leach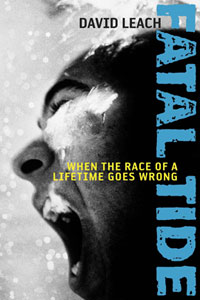 A riveting true story. Couldn't put it down. Well-researched, well-written.
Shannon from Moncton, New Brunswick, recommends: Shake Hands with the Devil by Roméo Dallaire
Above and beyond General Dallaire's retelling of the events he witnessed in Rwanda, I was even more moved by the frankness and grace with which it was told. I would like more Canadians to take the opportunity to know that someone like General Dallaire has spent a lifetime acting in the interests of people like us, regardless of the personal consequences.
Chris from Napanee, Ontario, recommends: Holding Juno by Mark Zuehlke
This book brings the memories of the heroes of our country to life. The stories told by all who were in defence of the D-Day Beaches of Juno are chilling and real. They read as if you could see the scene unfolding before you. Mark Zuehlke has brought the memories alive for us to remember the sacrafices made for our country.
Bradey from New Westminister, British Columbia, recommends: Writing Gordon Lightfoot: The Man, the Music, and the World In 1972 by Dave Bidini
Since the Rheostatics broke up I just want to see more Dave anywhere I can.
Carmen from Ottawa recommends: Between Friends: A Year in Letters by Oonagh Berry and Helen Levine
I have chosen this book because it fits ever so perfectly the requirements for Canada Reads: it is a true story, non-fictional. It contains the life story of two women and the story they shared with each other by means of letters. This book was born as a project they undertook because they felt their friendship didn't find enough means to be more complete and profound. Never enough time to talk by phone, or to visit. So, they decided they would exchange letters at relatively regular intervals (2 weeks) during the course of one year. The letters that make up this non-fiction book, speak about life stories that anyone will be able to relate to, in one way or another. How often can we get together with a friend, to talk extensively about our past, about our ideas, opinions, secret dreams, hidden fantasies? This book is an example of what creative talent can accomplish, for the sake of connecting more deeply with those we call our friends.
I am submitting this book for another reason as well: it is an extremely engaging read, which was written with passion and dedication.
Ann from Vancouver recommends: The Tiger: A True Story of Vengeance and Survival by John Vaillant
"It is a great read. It appeals to men. It introduces us to a far away place in the world. It gets us thinking about other than human species in a profound way. It made me think about living with cougars and black bears and wondering about what sort of connection we, in BC, have with our beautiful wild creatures. It is challenging read because we meet so many people with difficult names and complex relationships."
Mike form Vancouver recommends: Fatal Passage: The Story of John Rae, the Arctic Hero Time Forgot by Ken McGoogan
A gripping and compelling story of a truly an amazing individual. The virtually unknown story of Dr. John Rae, born and raised in the Orkney Islands, came to Canada with the Hudson's Bay Company and explored much of the Arctic and discovered the fate of the Franklin expedition. He is most likely the only Arctic explorer who never received any recognition. Many other explorers' expeditions cost significantly more, both in terms of money and lives. The descriptions of Dr Rae's physical strength and strength of character are inspirational.
Colleen from Regina recommends: Maternity Rolls by Heather Kuttai
Kuttai provides a touching account of her experiences with maternity and motherhood through the eyes of a woman with a disability. She offers a very real description of how a disabling accident as a young child shaped the remarkable woman she has become. This book is well worth the read!
Carol from Pickering, Ontario, recommends: All of Me: A Memoir by Anne Murray and Michael Posner
This is a down-to-earth autobiography of Anne Murray telling of the joys and trials of being an artist. It's like sitting and chatting with Anne as she tells of her family, growing up in small-town Springhill, her career and the price she paid for being a star. Also, it shows the true feeling of wanting to be and stay a Canadian. Well written.
Aaron from Vancouver recommends: Who Killed Mom? by Steve Burgess
A very well-written memoir about coming to terms with loss, childhood and maturity. Steve has great wit and his humor comes though even when discussing some heavy topics.
Dave from Vancouver recommends: The Ice Passage by Brian Payton
Because of this book, a research team from Parks Canada was able to find the actual subject vessel HMS Investigator in 2010. This discovery was one of the most important shipwrecks in Canadian history.
Sir from Vancouver recommends: Tangles: A Story About Alzheimer's, My Mother and Me by by Sarah Leavitt
Nothing can be truer than this painful, loving recounting of watching her smart-as-a-whip mother lose everything that made her, her. Sarah tell the tales with astonishing grace and compelling honesty. Anyone who has cared for a loved one in the toughest of moments would find themselves in these pages. Canada ought to read this graphic novel.
Clare from Kitchener, Ontario, recommends: Walk Like a Man: Coming of Age with the Music of Bruce Springsteen by Robert J. Wiersema
As a music lover and a fan of Bruce Springsteen I loved this book, naturally. But I think it has greater appeal than that. I'd like to see a debate between people for whom music is intensely personal and resonates with important times in their lives, as it does for this author, and people who think music should be critiqued dispassionately as a reviewer recently suggested. Whatever your opinion, I think what the book reminds us is that we all have stories and we don't have to be famous for our stories to be interesting. On the contrary, sometimes the stories of an ordinary man/woman resonate much more with the reader.
Stephanie from Brantford, Ontario, recommends: Shadow Maker: The Life of Gwendolyn MacEwen by Rosemary Sullivan
Shadow Maker is a brilliantly told story of the life of an amazing Canadian writer. I had been intrigued by Gwendolyn MacEwen since I was a teenager. She, along with Al Purdy, were my bridge to poetry in the way that the Group of Seven was my bridge to art. Her story includes that of Milton Acorn, Al Purdy and others that are Canada's equivalent, in my mind, to the Beat writers. Ours are far less celebrated but, for me, far more interesting and quintessentially Canadian as the land figures so prominently in their work. As a First Nations woman these were writers that I could embrace, they spoke my language. Others can better judge the literary merits of Sullivan's work, all I know is what speaks to me personally and this book did.
Liza from Burnaby, British Columbia, recommends: Cockeyed: A Memoir of Blindness by Ryan Knighton
Unique, funny but poignant.
Michael from Toronto recommends: Swing Low by Miriam Toews
Miriam Toews' amazing book, which recreates the life of her father Mel, is one of the most powerful books I've ever read. Inspired by a sentence Mel uttered days before he kills himself, Miriam sets out to unprove her father's assertion: nothing accomplished. The book is an unstinting look at his mental illness - Mel lived his life under the shadow of manic depression (now known as bi-polar disorder) and portrays the complicated effects it has on his wife Elvira and his two daughters. Yet far from having written a typical misery memoir, Miriam has discovered the joy and accomplishment of her father's life and provides for readers everywhere, the solace that only a narrative can provide. Miriam takes her father's life and makes some sense of it and in so doing, provides hope for all who seek a world where mental illness is not stigmatized. I feel this is one of the most important books written by a Canadian over the past twenty years and I hope it can be a candidate on Canada Reads 2012.
Ruth from Burnaby, British Columbia, recommends: Most of Me by Robyn Michele Levy
Robyn Michele Levy's book, Most of Me, should be considered for the non-fiction category. It is a well-written, inspiring account of one woman's healing journey. One thing that sets it apart is Robyn's brilliant use of humour - an unusual approach to this kind of subject matter.
Laura from Windsor, Ontario, recommends: Six String Nation by Jowi Taylor
Made from 64 pieces of Canadian history, the Six String Nation guitar is a symbol uniting this vast and diverse land. It is a wonderful read, a fantastic idea and couldn't be more Canadian if it tried. We took the kids to see the guitar on Canada Day a couple of years ago at Parliament Hill and also to a presentation, here, in Windsor and the kids were enthralled and actually wanted to know more about Canada and its history.
Sharry from Concord, Ontario, recommends: Neil Young Nation by Kevin Chong
This book is a joy to read. The story flows naturally and with great enthusiasm as the author takes a road trip across Canada and the U.S., mirroring the trip Neil Young took after leaving home in Winnipeg to pursue his music career. The author stops to chat at key locations with fans and other people associated with Neil in some way. Neil Young fans are everywhere and are all a part of Neil Young Nation.
Bonnie from Markham, Ontario, recommends: As You Were: The Tragedy at Valcartier by Gerry Fostaty
I'm recommending this book because it finally brings to light a tragic event that was so effectively swept under the rug for too many years. But it does it in such a way as to not sling mud, which in another writer's hands, could have happened. It's an intelligent, sensitively written first-hand account of a heart-wrenching story. There are lessons that I'm sure were learned following this tragedy, but the public were not allowed to really be part of that learning curve. Nor were we allowed, at the time it occurred, to really understand how and why it happened. It's an incredible story and hearing it from Mr. Fostaty's first-hand vantage point, brought it searingly to light. He humanizes the before, during, and most importantly, the after-effects of being involved in such an event. Well worth the read.
Have a great true story you can to recommend for Canada Reads? You have until midnight ET on October 14 to get your submission in. Head over to the Submit Your Recommendation page now!